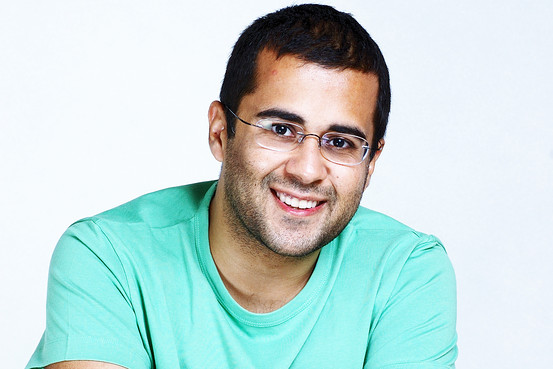 Moving from a corporate job to being a full-time writer was a life turning decision for Chetan Bhagat but it only shows how your passion eventually takes the better of you. His story is awe-inspiring as in its sheer simplicity it only reinstates the importance of following one's dreams.
Chetan Bhagat's personal story has unfolded in such a manner that the New York Times has called him the 'Biggest Selling English Language Novelist' in India's history. He has also made it to the Time's list of 100 most influential people in 2010. Here's what you did not know about your favourite author –
Chetan hails from a humble family in Ludhiana, Punjab. He completed his schooling in New Delhi and went on to pursue B.Tech (Mechanical Engineering) from IIT-Delhi. The hard work he put in his initial years is evident from his academic background and he then went on to pursue his MBA degree from IIM-Ahmedabad. After working for a couple of years in a lucrative bank job, he decided to quit when he could finally let go of his attachment with the money he made. His story has also been documented in his book "2 States" which is said to be based on his personal life. The book also records the aforementioned metamorphosis in a prosaic manner as it reveals how the writer in him, tried to escape through the process of creating the book in the form of an autobiography. The daily stress that he was experiencing during those years, the academic pressures, his troubled equation with his father and his unsuccessful attempts to please his future in-laws are all well-articulated in the book, where he seems to have channelized his energies. Some of his other famous works include, "Three Mistakes of my Life", "Five Point Someone", "One Night At A Call Center"
With the roller coaster ride his life has seen, Chetan's views on life are quite profound. He says, "Life is not to be taken seriously, as we are really temporary here. We are like a pre-paid card with limited validity. If we are lucky, we may last another 50 years. And 50 years is just 2,500 weekends. Do we really need to get so worked up? It's ok, bunk a few classes, goof up a few interviews, fall in love. We are people, not programmed devices."
Taking a cue from his life, we all can learn that it is important to follow your dreams and keep the spark inside alive. Secondly, dare to walk the "road not taken" and let your artistic side conquer your logical one as art can help you breathe through the travails of ordinary life.