In an Interview, do not show any sign of nervousness. Be prepared! Preparation increases your chances of being selected. myAMCAT.com presents its A-Z tips on body language.
Here are two tips (Q and R)  to prevent the nervousness in your body language affect your performance.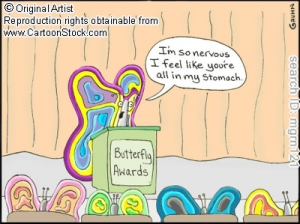 Q- Quickness, not necessary
 Don't rush! Try not to speak quickly, it can make it harder to understand what you are saying. Also, answer questions succinctly and confidently and be sure to actively listen to the interviewer instead of being quick to answer.
R – Relax your shoulders
When you feel tense, it easily winds up as tension in your shoulders. They might move up and forward a bit. Try to relax. Try to loosen up by shaking the shoulders a bit and move them back slightly.
To know about previous A-Z tips and be updated as new tips are released, email us at a2z@aspiringminds.in