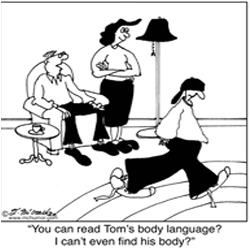 Even if you don't speak, your body does. So, its important to understand the aspects of your body language.
myAMCAT.com continues to present A-Z tips on body language.
Now we are at:  I and J
I – Interact as equal
You should interact with the interviewer as an equal, not a subordinate. Ensure that your voice tone is not apologetic or defensive. An interview is an information exchange between the candidate and the interviewer. Utilize the opportunity to get answers to all your queries related to the job profile and the company.
J – Just keep a good attitude
Keep a positive, open and relaxed attitude. How you feel will come through in your body language and can make a major difference.
To know about previous A-Z tips and be updated as new tips are released, email us at a2z@aspiringminds.in