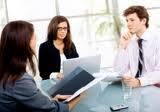 Verbal and non- verbal communication are equally important to ace an interview .
To assist you in preparing well, myAMCAT.com presents A-Z tips on body language…
Previous week's tips were about A-arms, B- behaviour
The tips for this week are :
C – Clear and confident voice
Make sure while answering to the interviewer, your nervousness should not affect your response. Don't sound too low, hard for the interviewer to understand, speak with an optimum speed, try to avoid fumbling for words. Clear your throat with a gentle excuse, ask for water if required and then speak.
D- Don't make excessive movements
Don't wiggle around in your seat. Find a comfortable spot in your chair and stick with it, especially if you are nervous. The excessive movement may distract the interviewer's attention and direct it away from your skills and qualities.
To know about previous A-Z tips and be updated as new tips are released, email us at a2z@aspiringminds.in