s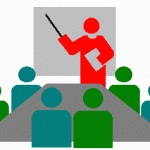 Presentations are one of the most common medium of communication in a workplace. Be it research conducted for a new project or a monthly work update, you will find yourself working on presentations quite often. Addressing an audience, especially your seniors or boss, can be daunting for newcomers. In this case, an effective presentation can score the right points. We guide you with a few simple steps that will help you deliver a great presentation the next time you're asked for one –
1. A good introduction – The first few minutes of your presentation set the tone for the rest of the talk. You should capture the audience attention immediately to keep them engaged throughout. Start your presentation with an interesting question or a relevant quote. It is also a good practice to give a short introduction of yourself and what you are presenting, before you begin. However, this would only be required if your speaking to a larger audience that goes beyond your team.
2. Keep in mind the audience – While preparing your presentation, it is essential to know your audience. Will they be your colleagues, seniors or someone else? The content that you add in your presentation should be designed keeping them in mind. You should think about what they already know? What they want to know? And how can you best present it. This will help you create a presentation that captures their attention as they are getting relevant information.
3. Include graphics – A picture can say a thousand words and is also great to keep the audience engaged. If you think some of your content can be added graphically then use a few graphs/visuals. They are more appealing to the audience and can break the monotony from long-running text. Use a light colored background to enhance or illustrate what you are explaining.
4. Practice the timing – Practise giving out your presentation a few times before the actual day. Speaking to a large gathering can be unnerving and you may even end up forgetting a few lines. Time each of your slides and practise the 3-4 minute talk that you would want to give out on each of them. Don't go too fast or too slow and try to maintain your normal pace.
5. Don't read out from the slide – Reading out from the slide will immediately turn off the audience. Your focus should be to interact with them and let them read the slide content. If you're not a 100% confident then create small cards with keywords that you can take a cue from, in case you get stuck somewhere in between.
6. Go easy on colours – Don't flood your presentation with different fonts, colours or loud themes. This can reduce the readability of the content and will distract the audience from what you have to say.
 7. Presentation length – An ideal presentation should be no longer than 10 slides. A very long presentation can lead to your audience losing interest very soon. While with a short presentation, you may miss out on some key details. Always consult your manager with the number of slides he/she would like you to include and create the content accordingly.
Learn from these simple steps and be on your way to create great presentations. Also, another important factor is to have a plan B ready. Keep a backup of your file in a different location on your system. Also, always email a copy of the file to yourself and carry it in your pen drive. In case there is no access to internet or any other last minute hitch, you will not be stranded in front of the audience. 🙂