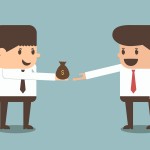 Landing the first job is probably the most critical step in any young professional's career. While most job seekers prepare comprehensively for the interview, they sometimes overlook the important step of salary negotiation with HR. Your lack of experience doesn't mean you should accept any offer without carefully analysing it. Here's what you need to keep in mind to ensure that your efforts aren't wasted as a consequence of not being offered the salary you expect.
1) Do some research about the industry standards: You can gather information around salary ranges for any position through multiple sources like trade publications, industry associations, network of friends, consultants, networking sites etc.  If you are a fresher, try to speak to alumni from your college who may be working in the same organisation. Get some basic facts about the overall state of the industry in which you are applying. A booming or sunrise industry will offer better packages.
Go to the company's website and learn more about their profitability and market position. In any negotiation, superior knowledge will give you the edge.
2) Make a wish list: Break your expectations into three broad categories — monetary benefits, perks and other factors -and jot down your expectation against each. Money would include basic salary, incentives, bonuses etc. Benefits would include free transportation, free meals, medical reimbursement etc. Other factors would comprise job title, training, exposure, international travel etc.
Do some introspection around which of these factors is the most important to you as an individual. This kind of introspection will enable you to stay flexible and also provide alternatives to the employer during the negotiation.
3) Don't talk about salary during the interview: Any employers will bring up the question of salary in the middle of an interview. This trick is used as most candidates are likely to agree on a lower salary figure due to their anxiousness to crack the interview. Delay talking about compensation as far as possible. Mention that you are keen on the role and the organisation but would like to hold on to salary discussions until you know that you are right for the job.
4) Get the lowdown on benefits: Do get the details on medical and life insurance, travel allowance, educational assistance programmes, overtime allowance, paid holidays, employee stock options etc. Sometimes excellent benefits can compensate for a lower salary. If you really want the job, but the offer still seems low after negotiations, see if the employer will consider a salary review three to six months from your starting date.
5) Don't undersell yourself: Don't get intimated just because you don't have the work experience. You can talk about the projects or internships you may have undertaken in college. Highlight your interest and enthusiasm to work for the organisation. You would be surprised but employers actually value enthusiasm, passion and openness to learn.
6) Consult with your seniors: Don't rush into accepting any offer on the spot, no matter how lucrative. In fact, a good idea is to buy some time and discuss the offer with an experienced well wisher.
Tell the HR manager that you are interested in working for the organisation and would need about 24 hours to consider the offer. Think about it — you will be spending 8-10 hours every day at this new job so a 24-hour wait is worth it.
Remember your first salary pretty much dictates the pace at which you will grow. So go ahead and negotiate your way to a good entry-level salary package.
(This article first appeared on citeHR)