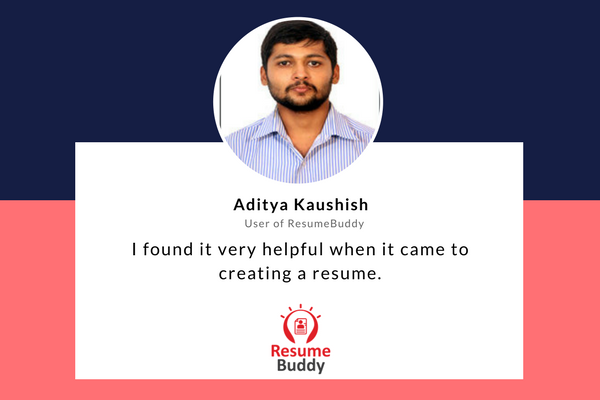 Your first move matters. Especially in a job search journey, where this first move or first interaction with likely recruiters happens through a singular document – your resume. Having an expert craft this move to precision is the best thing you can do to get a job. And that expert aid can be yours if you choose to opt for a resume making tool like the ResumeBuddy – as seen with our first ResumeBuddy Review.
Aditya and his ResumeBuddy Review:
Aditya Kaushish, an AMCAT user who recently opted for the ResumeBuddy, an automated resume creation tool from our stable. We asked him about the difference this resume template approach made to his job search and how he would review ResumeBuddy.
Aditya, who published one resume using the resume creation tool, was looking for a fresher job, across all domains. He went ahead and submitted the resume he had created using ResumeBuddy for his off-campus placement interviews. "My fresher resume got shortlisted and I received interview calls."
"The ResumeBuddy resume creation tool is an easy-to-build resume maker. It requires simple details and the resume templates here can be modified easily, through simple editing. Overall, I found it very helpful, when it came to creating a resume."
Kaushish, however, remains critical of the product, when it comes to similar apps. "Right now, I see no difference between using the ResumeBuddy and the CV Maker. If you can create a differentiation, then this resume making tool would be the best app ever!"
Thanks for that constructive ResumeBuddy Review, Aditya. We will take it into consideration in our next set of improvements to the tool. We also hope that your words fuel others to consider trying the tool and coming up with their own super-powered resumes.