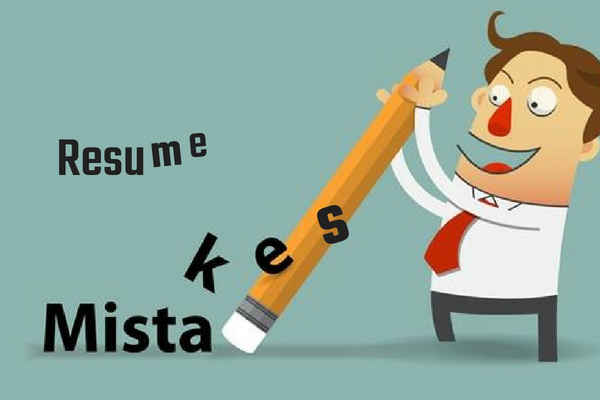 We have heard it so many times that a job resume is the first impression that you get to make on a recruiter and if that impression is not good enough, then you lose out on the chance of getting that interview call. However, despite the importance of resumes, many of us still tend to make certain resume mistakes.
These resume mistakes, whether committed knowingly or unknowingly work to seriously hamper you chances of getting a good job. So, what are these dreaded resume mistakes and how can you fix them?
Resume length
It is important to note that when you are drafting your resume, you need to be very conscious of the resume length. Recruiters spend a mere few seconds on each job resume. That means, they are looking for not-so-lengthy resumes that stand out.
If as a fresher your resume is more than a page long, then you might lose the interest of the recruiters. Similarly, if you have less that five years of experience, even then your resume should ideally be just one-page.
We have covered this topic in some detail here and how much the resume length actually matters.
Grammatical errors
Grammatical errors are not considered as just resume mistakes but as resume deaths. One silly grammatical error and you will be out of the running despite having all the relevant skills and experiences.
So, before you punch in the send button, read and re-read your job resume to ensure that it is totally error free. You can ask someone else to read it for you once you have completed the final draft and ask them to point out any mistake that you might have made.
Better still, opt for a resume writing solution like Resume Buddy to overcome most of the resume mistakes. Resume Buddy can help you say a lot in a shorter space and check your resume for silly errors too.
First person, third person
Most of us don't know how to write in a job resume – should we use 'I' to begin the sentences or use a third person narrative?!
However, the fact of the matter is that none of these ways are correct and you should rely on neither the first person or third person narrative to express yourself in a resume. Instead opt for crisper sentences just stating facts.
For example – 'Did a project on the affects of artificial intelligence on human behavior.'
Fancy fonts and images
Most of the times skipping to add a picture of yourself on your resume can be a great idea. Most people assume that adding a picture lends credibility and makes their resume more likable. However, it is one of those silly resume myths that is actually one of the biggest resume mistakes you can make.
Recruiters don't prefer hiring people who might have attached their picture with their resume because it might raise questions later on.
On the same note, using fancy fonts to try and make your resume attractive can backfire too. It can, if nothing else, make your resume seem too cluttered and make it tough for the recruiter or anyone else to maneuver through it.
Lacking specifics
Your resume cannot be a general summary of who you are and the projects you have worked on. It needs to be very specific and make use of numbers, figures and facts.
If you are talking about project you did in college, then you need to specify your contribution to it. Similarly, when talking about your internships, specify what was your role, what you learned and the skills you developed.
Quantify information wherever possible, put things in bold to highlight them whenever required and make use of bullet points.
These are the top five resume mistakes that you might be making and the reason why you might not be getting interview calls. However, resume writing is no rocket science and you can follow the right resume writing methods to draft an outstanding job resume.
In case you have got questions related to resume writing or other resume mistakes, then feel free to drop them in the comments section below.