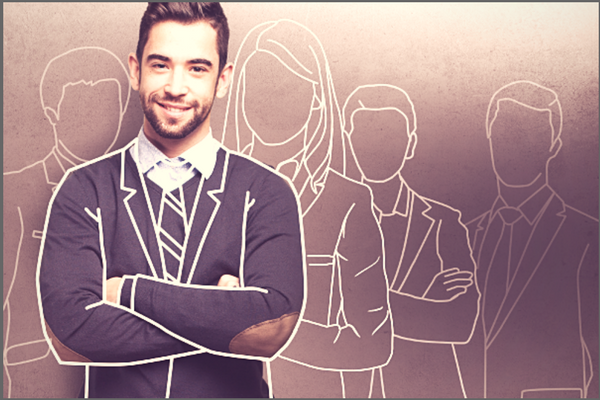 Anxious while preparing for off-campus hiring for the big 5 IT companies? We understand. Getting hired in a big brand isn't just about a steady job after college – it's a prestige point about getting the dream job that your entire class wants. That's why we bring you the most common interview questions you should work on when preparing for a job off-campus IT interview.
Inputs from joinees at Accenture, Cognizant, Infosys, Ericsson and Genpact and Glassdoor experiences helped us work this blog. And this what we found:
Candidates face three to four rounds of interviews. And while you may be asked different queries based on your experiences and the position you've applied for, here are the common questions you may be asked.
Preparing for an Off-Campus IT Interview:
Usually, candidates are gruelled intensely for a fresher job in IT and consulting companies. There is a common aptitude round (held on campus and off-campus), a technical interview or Skills interview round and an HR interview round (often coupled with the technical interview).
An analyst role, on the other hand, sees a more focused interview, with a behavioural interview round and a case study interview.
Based on Glassdoor responses, here are the common off-campus IT interview questions which you need to master:
Why would you like to join us?
Why are you keen on this profile?
Work experience – What did you do in X Internship?
Questions on Educational, Professional material.
Where do you see yourself 5 years from now?
1.Why would you like to join us?
How to answer:
This may seem a straight-forward question, aimed at assessing your interest, knowledge and inclination towards the company. But watch out! It can be a laden-minefield, where a single misstep could impact your chances.
Normally, when a recruiter asks 'Why Us', they aim to determine:
Your career goals + relevance of the company in them.
Your motivation levels to perform on the job.
Your interest – whether you have researched the company and the industry it is based in.
Your preferences – What aspects of the company appeal to you
To answer a 'Why Us' for a major IT/Consulting company, keep in mind:
The organisation expects honest, accurate answers which will show you as a good fit with the organisational ethos.
They wish to see your openness, willingness and ability to learn on the job.
A good answer would be:
1. 'I chose to work in consulting, keen on experience in multiple industries. For this, _______ as a brand stood out to me as the company where I could holistically achieve this'.(This is an Actual transcript from the Accenture website).
2. 'I am keen on building my strength in SAP and come to _______ based on your track record and strengths in the field. I hope that it will also hone my talents in building client solutions and learn from the talented experts in my field. The training opportunities on the job are an added advantage too!'
2. Why are you keen on this profile?
How to answer:
Another crucial personal interview question that comes up, answering 'Why are you keen for this job' is a filter which shortlists role-fit candidates, from those who are just eager for a chance to work with the brand. This means, that apart from detailed brand knowledge, you need to research the role, connect it with your own interests and portray yourself as a strong candidate for the position.
To answer, a 'Why this role', keep in mind:
The organisation is judging your interest and enthusiasm for the role. Your research and clarity for the role will show you as a serious contender.
They want to see you connect the role to your current strengths and experiences. Your professional fit, academic background, interests would be a part of it.
They want to see you align your career trajectory with the role. Show how you are willing to work through it, as per what the company is explicitly looking for and think of where you wish to go from this point, to say, five years down the line.
A good answer would be:
For an entry-level Analyst role: I'm keen for an analyst profile with _____ , because:
I would be in the midst of a fast-paced system – analysing client processes, reviewing their work, delivering solutions and watching their implementation in real time.
I see the role of an analyst as a pace-based career path, putting me at the centre of all developments. Steady delivery of work solutions would keep in line with a career trajectory in consulting with the brand.
I am keen on the extensive learning and development opportunities which come with this role, especially at Accenture.
My critical thinking and problem-solving experience in X hackathons, would help me work more efficiently at engineering client-specific solutions.
Practical learnings and working with a team full of smart, field experts will help me hone myself in the (specific) analyst profile.
For an entry-level Associate profile:
I'm keen on an Associate profile with ______, as I would like to begin my career with the organisation, learning from the base up in (relevant field) operations. I hear the role helps in learning at all levels – from knowledgeable colleagues and members to specific training programs.
Working on projects like…. and ….. have helped me understand how I can efficiently pick up nitty-gritties, work out how to smoothen process flows and deliver the kind of results that are needed. The ________ associate role at Accenture would be a logical next step forward in the same vein.
3. Work experience – What did you do in X Internship?
How to answer:
The interviewer is looking for ways in which your current experience – projects, internships, workshops or hackathons make you a professional and cultural fit. Make these linkages yourself, by being mindful of the ideal candidate requirements in the Accenture JD you have applied for.
A good answer:
Your answer is specific to your experience and the company role. For example: If you have intern experience in IT support and you are applying for a Technical Support Associate role, it's a seamless fit. Briefly describe your work, challenges you faced and how you dealt with them. Highlight achievements which helped the organisation by reducing time spent on an issue, or improved productivity.
4. Educational / Professional knowledge:
How to answer:
The company wants to know how grounded you're in your field. They wish to see you analyse and apply your knowledge practically, in common challenges and situations you may face in the field.
A good answer:
Software engineers are asked about Databases, JAVA; Technical support on Operating systems; Development Associates on App and development areas; Analysts on common problems. Depending on your field, you may be asked to give a case study or solve a problem. Firm subject grounding and creativity in solutions can give you a heads-up.
5. Where do you see yourself 5 years from now?
How to Answer:
This may feel like a trick question and you don't want to end up saying, 'in your role', 'in a different organisation' or even, 'not here'. You have been asked this question because:
The interviewer wants to understand your career trajectory, or long-term plans and how the current role would fit into it.
They want to gauge your work motivations and how willing you would be to work for them if hired
Thinking in the long term is a trait for those who have good self-management skills and can take initiative.
A good answer:
'I hope to become a successful business consultant in five years. I think that this position at ______ would help me learn the traits and provide real-time client solutions for their specific needs.'
If this blog on off-campus IT interview questions interested you, we recommend the following reads:
'Tell Me About Yourself' – Answering this Job Interview Question
What Can Freshers Expect From HR Round Of Job Interviews
Campus Placements: Ultimate Preparation Guide for Personal Interviews