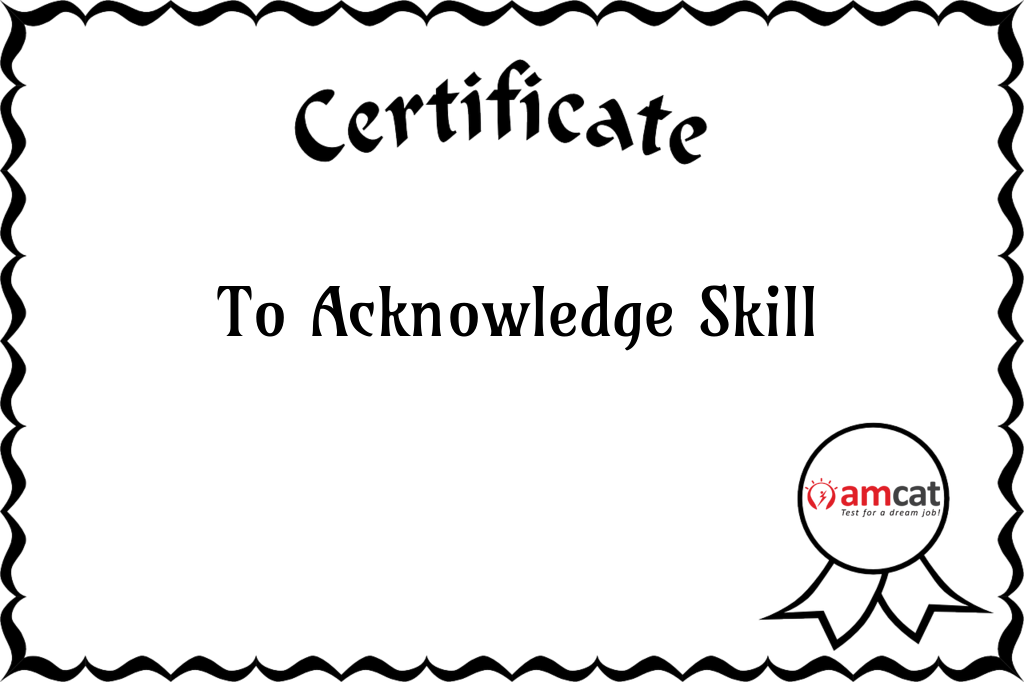 Gone are the days when employers considered academic grades as the ultimate identifiers of your talent. Today hiring managers prefer talented or skilled candidates over academically versed ones.
You must have seen for yourself that two individuals with same academic scores perform very differently when put in same job roles. This is because of difference in tactical knowledge, job skills and dedication put in by different individuals.
So, how do you make your candidature stand out when looking for a job?
You invest in skill certification courses.
Special Offer: Get AMCAT at just Rs.949/-. Use Code BLOG2019 at payment page. Hurry! code valid till 31st March 2019 only. Register Now.
Skill certifications are short-term courses designed to develop or formalize your existing interest and talent in one particular field. You can get admission in certification courses like PHP Development, Search Engine Optimization, and English language etc.
Today, AMCAT Skill Certification Courses are considered very relevant to your candidature when applying for jobs. The AMCAT Certifications showcase your skills to employers. Once you enrol in the course of your choice, you can get yourself assessed on your job skills, receive feedback on your strong and weak areas to improve and earn industry-recognized certifications.
If you still do not believe in the value of AMCAT Certifications, here are some top-of-the-head benefits associated with them. Read on to know what you're missing out on.
Competitive advantage
These days the job market is loaded with stiff competition. Each day hundreds of students apply to all kinds of jobs which means employers have very tough choices to make.
Most students graduate from similar colleges with the competitive academic score, making it baffling for the employers to decide the best suited candidate for the job.
Thanks to skill certification courses that add a competitive advantage to a student's resume making his/her candidature stand out. If you're officially certified in a field of work, you are definitely an employer's first choice for the job.
Hence, job skill certifications provide you with a competitive advantage.
Execution of projects with efficiency
We all know academic knowledge is barely used in the day-to-day work environment. Yes, clear basics and worldly knowledge sure help but have you ever used algebra or trigonometry while working as a Digital Marketer? The answer is No!
This is why we need skill certifications that empower us with knowledge directly related to our field of interest. These courses make you absolutely ready to deal with any kind of work in the industry.
For instance: If you're applying for a job in Nielsen, you should preferably have successfully completed the amcat certification course in Data Science. In this job role, your distinction score from graduation barely makes you the preferred choice amongst a huge pool of candidates.
Increased earning potential
The ultimate aim of education is to land a decent, challenging and, most of all, a well-paying job. Just like you, millions of other students wish for the same after graduation. But how many actually live their dreams? We can't say!
With amcat certifications, you gain extra knowledge, experience and tactic to deal with specialized work in a field.
Also, employers do understand the time and effort spent by you in mastering their skills while training. So, they willingly hire and pay more to those with skill certifications than others.
In fact, one study found that online certifications increased salaries by 20% to 40%.
Ever-growing knowledge and job skills
Learning never stops for successful people. The continuous thirst for knowledge is a key element in building a growing and thriving business. That's exactly why acquiring skill certifications should be on your to-do list.
The amcat certifications provide recognition for your specialized knowledge or skill set, which is significantly beneficial when landing jobs. By acquiring new job skills and honing the existing ones through amcat certification courses you become efficient at your existing job along with being prepared for the next big venture. These build confidence, trust and professional credibility of a candidate.
So, do not hesitate any more. Take the amcat certification courses today to strengthen your job candidature. Choose from 30+ skill certification courses today.
Special Offer: Get AMCAT at just Rs.949/-. Use Code BLOG2019 at payment page. Hurry! code valid till 31st March 2019 only. Register Now.