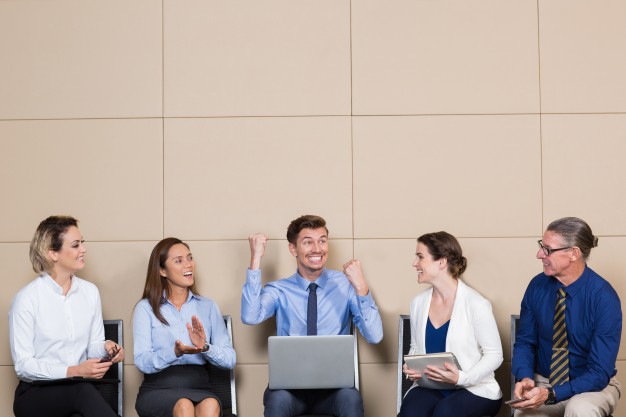 A job interview is like the real final exam for an undergraduate student, and its result has a long-lasting effect on your career. With such immense pressure on the outcome, how nice would it be if you could get the result of the job interview then and there, instead of waiting for a few days or weeks to hear from the HR?
Unfortunately, not many job interviews lead to a conclusive result, which is why you have to depend on other signs to find out the result of a successful job interview. Based on our experience, here are the top six signs that your fresher interview went very well –
The job interview ran for a long time
A majority of job interviews for freshers range between 15-20 minutes or even lesser, but in case your interview runs for longer than that then you can think that you will be called for a second round. Interviewers don't want to just have fun with you or pass their time on interviews, if they are investing time in talking to you that means they find it useful.
They will ask you for more details and information about everything you have spoken. You can prepare for long interviews by taking a mock interview with Mock AI, so that you will be confident and relaxed.
Notice the change in language from 'If' to 'When'
Job interviewers make sure that they do not promise candidates about job offers, in fact, they do not commit to anything unless it is in the physical form of a job offer. In such a scenario, you need to keep a lookout for subtle and subconscious moves.
Usually the interviewers will keep asking questions or stating facts like 'If you are selected you will have this role', but over the course of the interview if they start saying 'When you get the job you will be doing these roles' it means that your interview has gone well and they are already thinking of having you in their company.
Introduction to the rest of the team
A great sign that things are going positively is when after the job interview you are introduced to employees. Your interviewer might take you around the office and show you where your future team might work, or introduce you to team members saying 'This is X, he/she is interviewing for the role'.
The interviewer will take time to do this only if they are keen on having you onboard, they won't extend this courtesy to all candidates who interview for the job!
The interviewer started to tell you why you are a good fit
If you have attended a few job interviews you will know that it's almost like a sales pitch for yourself! You have to sell your best characteristics to get the job, but what happens when instead the other way around the interviewer starts selling you the job?!
Many times when the interviewer is thoroughly impressed with you they will start listing down the things that make the job exciting and how it will help your career if you join.
Interviewer discusses the next steps in the job interview process
At the end of most job interviews where the recruiter has not made a decision, they will just tell you the HR will give you a call. But, if the recruiter has decided they will hire you, they will start discussing what the next steps in the interview process are and when they will happen without you even asking about it! This is because they want to cut out any delays and ensure you join the company as soon as possible.
Salary and other job perks are discussed
One of the most important job tips we give is to not talk about salary in the first job interview round or unless the recruiter raises the topic. However, when a job interview is going well and the recruiter wants to know your expectations so they can go ahead and make an offer they will discuss it with you.
You can negotiate and clarify your expectations clearly at this stage so that everyone is on the same page.
All these are excellent signs for letting you know that your job interview went well, however you should remember that things can go wrong at any moment! Don't celebrate or stop your job interview process until you get the job offer in your hand.
To ensure your job interview goes well, you should take a mock interview and Mock AI – the best mock interview platform that will give you unbiased feedback and some great advice on cracking personal interviews.