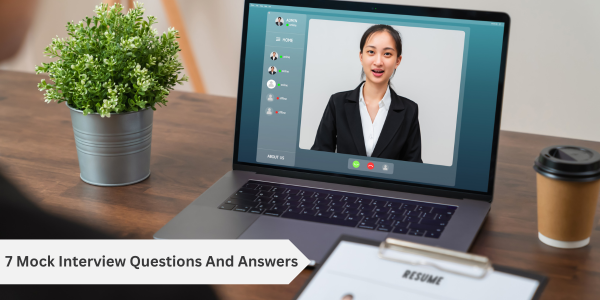 Interviews can give butterflies in your stomach, especially when your dream job is on the line. The key to overcome interview anxiety and adding your chances of success lies in the process of preparation. Mock interviews are important, since they can help you upgrade your responses, boost your confidence, and leave a lasting impression on employers. In this blog, we'll explore a range of common mock interview questions, and we will share with you some best answers to help you shine during your next interview. Let's now see how the job interview process has changed in the today's day. We would like to introduce you to Mock-AI, you can use this tool to evaluate your interview skills, use AMCAT Mock-AI. We would like to take you through the process of understanding the tool better.
What is Mock-AI?
The interview preparation tool is called Mock-AI and uses AI-ML technology. It gives you a thorough study and practice sessions before your dream job interview. Mock-AI interviews you, before being able to answer questions via your webcam and microphone in an actual interview.
The third section uses machine learning algorithms to analyze your audio and video feedback, and the final section gives you a detailed 6-page feedback report so you can use your focus on your weak areas.
Why Mock Interviews?
Mock interviews offer safe surroundings to exercise your interview skills and admit valuable feedback. Here's why they matter:
Practice Makes Perfect: Just like any other skill, practice is essential for interview success. Mock interviews allow you to practice your responses, fine- tune your body language, and be confident before your actual interview.
Boost Confidence: Mock interviews offers a platform to attempt difficult questions and prepare your answers. The more you practice, the more interview-ready you will feel during the real interview.
Targeted Feedback: Mock interviews frequently come with formative feedback from mentors or peers. This input helps you identify strengths and to work upon the areas for enhancement.
Reduces Anxiety: Familiarity reduces anxiety. Regular practice in mock interviews can make you feel more comfortable and in control while facing the actual interview.
Mock Interview Questions and Answers
Tell Me About Yourself This question serves as an icebreaker. give a brief overview of your professional trip, by focusing on experiences and skills that matches with the job.
Answer " I am a passionate marketing professional with a track record of driving successful campaigns. I lately led a project that increased social media engagement by 20%, by showcasing my strategic thinking and skills of working in a team."
What Is Your Greatest Strength? conform your strength to the job conditions and give an illustration.
Answer" My topmost strength is my problem- solving ability. In my former role, I resolved a critical customer issue, leading to a 20% increase in client satisfaction."
Tell Me About a Challenge You Crushed: Focus on your adaptability and skills.
Answer" During a tight deadline, a project was put at risk due to our team's communication breakdown. I took action to re-establish communication channels, ensuring that the project was completed on time."
Why do you want to work here? Present company's research and align your goals.
Answer: "I appreciate your company's commitment to innovation. Your recent product launches have impressed me, and I'm happy to contribute my skills to your team if." they are the active."
Describe a time you worked in a team: Emphasize teamwork and cooperation.
Answer: "Within a cross-functional team, I collaborated on some product announcements. My clear communication and flexibility ensured a smooth process." den, and it started to prosper."
Where do you see yourself in five years? Demonstrate a willingness to align with the company's vision.
Answer: "My goal is to take a leadership role where I can guide the team. Your company's commitment to professional development makes it a great place to achieve this goal."
Why should we hire you? Demonstrate your unique value.
Answer: "My extensive experience in project management, combined with a proven ability to streamline processes, positions me to excel and contribute to the success of your team."
Mock interviews are your secret weapon to discover success. Practicing answers to common questions and getting targeted answers will give you the confidence and skills needed to excel in real interviews. Remember that every mock interview is a step towards improvement. Embrace the curriculum, hone your answers, and be ready to impress potential employers. With dedication and practice, you'll be well on your way to acing your next interview and getting your dream job.