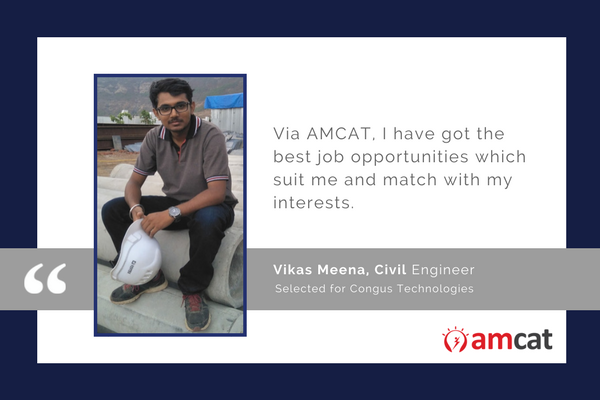 Preparing for your round of reckoning during the campus placement season? You could aid the process, courtesy the AMCAT Test, as we found out from one of our recent AMCAT Success Stories – that of Vikas Meena from Jaipur. Here is how he linked the dots for his job search, by getting a matched, relevant placement.
Vikas and The AMCAT Test
Near the end of his B.Tech in Civil Engineering from Poornima Institute of Engineering and Technology, Vikas was looking for an opportunity. Confessing that he considers himself an average student, he said, "I am an opportunist and like to grab every opportunity."
And as he stepped into the placement season, he faced many difficulties – like every other fresher looking for a job after college. "Today, finding a job of your choice is a very tough job. However, the AMCAT helped me with the best job opportunities, which suit my interests."
He decided to give the test and recounts the experience in this story.
"The AMCAT Test was really good. I found it designed to test the knowledge as well as the attitude of a person. The Test is strictly according to students and the level of questions vary according to the ability of the students."
He would recommend it, just for the number of job opportunities one could receive from their test score. "The AMCAT does provide a lot of job opportunities, which we don't know about or which we are not aware of. Based on my experience, it does provide these to students."
Clinching the job opportunity:
Vikas had to wait for three months before he got his first job interview call. And from then on? "I constantly receive emails from AMCAT for Job Opportunities."
We now moved to his job interview with Cognus Technologies. How did it go for you, Vikas?
"The interview process at Congus Technologies was moderate to difficult as they judge you on all parameters."
Looking back, he said that confidence was the weapon that could help one, when preparing for a job interview. "Keep a smile on your face during the job interview and answer every question with confidence. There is no need to take any stress."
Happy with the opportunity in his hands, Vikas envisions a challenging career trajectory for himself. "I am looking for a challenging career, where I can utilise my technical, interpersonal skills an knowledge, practice and enhance them."
Congratulations, Vikas on making it through. We hope that your placement with Cognus Technologies turns into the kind of career opportunity you're looking for.
If you found this story engaging, we would recommend that you schedule the AMCAT Test for yourself and see how it can help power your job search. What's more – You can now get the AMCAT Test score within 24 hours.