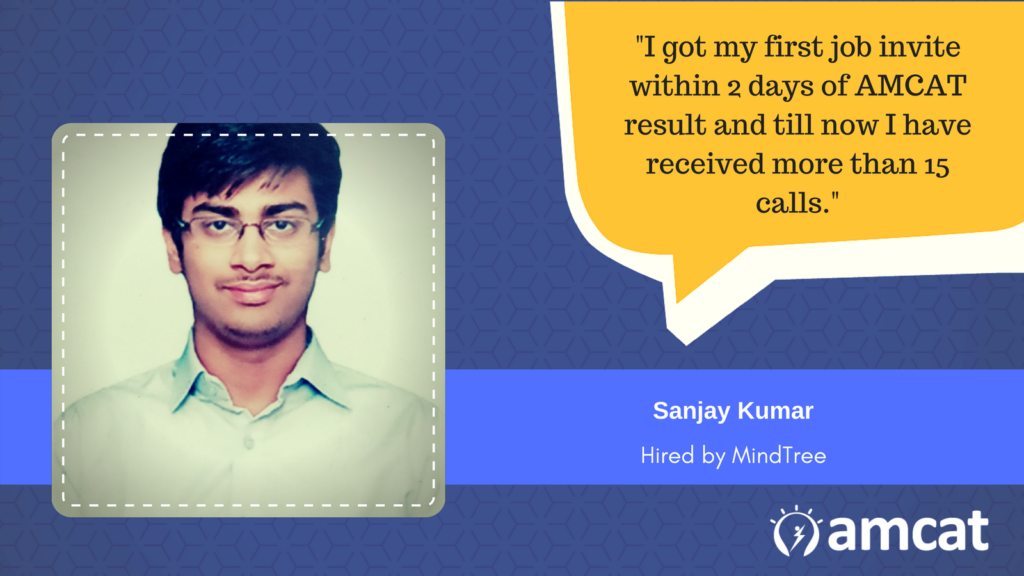 Many people come to us with a very common query, and that is – "How effective is the AMCAT exam?" And, to answer those many queries, we have got our AMCAT testimonials to put our case forward.
So, today, we are in conversation with Sanjay Kumar!
Sanjay got hired at MindTree and he gives the credit to AMCAT. An avid chess player, Sanjay turned to the AMCAT exam to move ahead on the path of success and he wasn't disappointed.
Let's hear more of his story in his own words.
Why did you opt for the AMCAT exam?
"I took the AMCAT exam because it acts as a platform from where you can get exciting job opportunities", says Sanjay.
Sanjay's words resonate with what the whole AMCAT experience is all about, that is, bringing the recruiters and the job seekers under one roof. And, we could not be prouder!
However, being as intrusive as we can sometimes be, we asked him how the AMCAT test experience was? And, prompt came the reply that,
"The test was simple, you can ace it if you have basic knowledge of quants, problem-solving and verbal."
When did you get your first interview call?
"I got my first job invite within 2 days of AMCAT result and till now I have received more than 15 calls."
Sanjay went on to further add that the interview experience was challenging. The main focus was on college projects and technical knowledge of the subject.
Would you recommend the AMCAT to others?
"Yes", says Sanjay.
When asked "why"? He says, "AMCAT is a great platform which can help you land a good job."
In the end, do you have any tips that can help other job seekers in getting a good job?
"Revise all the important stuff like C, C++, Java, DBMS, etc. Make sure you speak confidently during the job interview"
That is some very sound advice and something that we have been repeating ourselves over and over again. Confidence can really be the key to success in a job interview. Scoring well in the AMCAT exam cannot be enough to help you land a great job. And, scoring well in the exam is a challenge in itself. That is why, we have launched AMCAT Premium – your three-step solution to getting a job!
With AMCAT Premium, you can prepare for the AMCAT exam, draft an impressive job resume and get ready for the interview, all in one go. And, add to that the AMCAT certification and a testimonial of your skill sets and you are good to go and take any job home.
Are you ready to take a leaf out of Sanjay's book and write your own success story? Yes? Then schedule your AMCAT test today and get ready for numerous job opportunities coming your way.