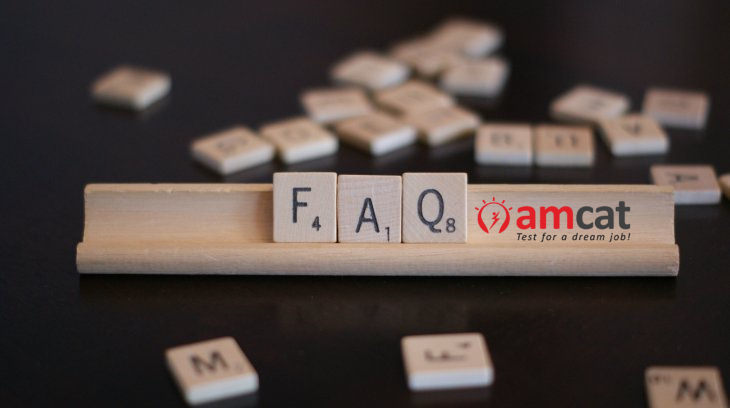 Over the years, AMCAT has proved to be a great platform for fresher graduates to move closer to their dream career. Hundreds of candidates appear for the AMCAT exam every month and kick-start their professional journey.
The advantage that AMCAT exam brings with it is the unanimous and unbiased approach, providing freshers an equal opportunity to make a great career, irrespective of their academic scores; assessing purely on the basis of their skills.
Also, the simplicity of the exam format makes it a no-brainer for the students.
Starting from the process of registration for the AMCAT examination to all the way to check the results and scheduling interviews with relevant companies.
However, one cannot simply take anything for granted and leave things on presumptions. Nor do us at AMCAT.
We understand that a lot of students who appear for the AMCAT, face issues once they are done with the exam. These issues vary from candidate to candidate.
But, that eventually leads to a collective set of common issues, leaving us with frequently asked questions by the candidates, post AMCAT exam.
So, in order to make sure that our candidates have a smooth and uninterrupted experience, even after they are done with their exam, we have come up with a consolidated list of common issues faced by candidates post AMCAT exam with their solutions.
Issue:
I appeared for the AMCAT exam but not able to see the result. It shows I have not appeared for the exam.
Solution. This mainly happens when either a candidate has entered the wrong username/password, or it was a company specific test. In case, the candidate has appeared for a company specific exam, the company will contact them directly. So the candidate needs to wait for a revert. Alternatively, the candidate must check their username/password entered to log in.
Issue:
Appeared for the AMCAT exam. Got selected for interviews. But not getting interview details or any further correspondence regarding interview.
Solution. The role of Aspiring Minds is to operate as a common platform for candidates and companies to find each other. If a candidate receives acknowledgment about interview selection, they need to wait for correspondence from the respective company thereafter. The sharing of interview details is completely at the company's discretion; which at times may take a while.
Issue:
It has been weeks since appeared for AMCAT exam, but not received the score yet.
Solution. There are three scenarios in this situation;
Test given at amcat center: Once a candidate raises the issue of not getting the score, our support team check their profile details (amcat ID, test date, etc.) and share the score directly.
Test given

i

n college: In such case, the candidate is advised to contact their college TPOs to inquire for the test score.
Company specific test: In this situation, candidates need to wait for the concerned company to revert with the score; as Aspiring Minds has no say in this.
Please Note that it takes a minimum of 48 hours for the amcat results to be declared in any condition.
Issue:
Lost or Forgot AMCAT ID
Solution. In this case, the same three conditions apply as explained above. If the candidate had appeared for the amcat exam at an amcat authorized center or in their respective college campus, they are advised to check their 'scorecard' section. And, if the test was company specific, they need to wait for the company to revert.
Issue:
"My amcat score is xxxx. Will I get a call from a good company?"
Solution. The amcat exam consists of different modules. Out of these, there are a few modules which are compulsory and 2 modules are subject oriented that the candidates can select from. Each module is of 900 marks, and a score of minimum 550 is considered to be a decent score. However, for the subject domain specific module, it is always recommended to score as high as possible. The more a candidate score high in the subject domain module, the better are the chances to get interview calls from companies for relevant profiles.
For more on what is a good amcat score, read this blog.
Issue:
How long before I can reappear for the AMCAT exam?
Solution. A candidate needs to wait for at least 45 days from the date of 1st attempt to reappear for the exam. Also, one can give the AMCAT exam at most 3 times in a calendar year.
So, there you have it. These were some of the most commonly asked questions by our candidates once appeared for the amcat exam. We hope that this article would help you get answers to your queries first hand.
However, if you believe that your query was not answered in this article, or you couldn't find a satisfactory answer, we are always available to help you with your concerns. Simply drop in your queries and we'll be as prompt as we can be to get that rectified in the shortest possible time.
Also Read: How To Check Your AMCAT Test Result?