A Team Lead in the ITeS domain is responsible for managing and leading teams in different processes within the organization. He/ she is responsible for maintaining the required service levels, motivate and drive the team and strive for continuous process improvement.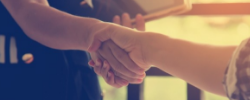 The Job Role and Responsibilities
A Team Lead's job role and responsibilities would include:
Recruiting, managing and motivating team of agents/ executives.
Day to day planning and management of the team for different processes.
Ensure that service level standards are adhered to.
Quality monitoring and providing coaching and feedback where necessary.
Recommendations for product and process development based on customer feedback.
Communication point between team and company management and clients.
Competencies and Skills Required
Primary job responsibilities of a Team Lead in an ITeS setup is to manage day to operations on the floor and effective team management. Some qualities that potential recruiters look for in candidates are:
Communication skills.
Team Handling skills.
Ability to work in a high-pressure environment.
Client Management Skills.
Operations Management.
Assessment for the 'Right' Team Lead
Team Lead Profile
AMCAT Mapping
Communication Skills
English – Mid to High
Team Handling skills
Team Management (SJT*)- Mid to High
People Management (SJT) – High
Ability to work in a high-pressure environment
Emotional Stability (Personality**) – High
Client Management Skills
Client Expectation Management (SJT) – Mid
Operations Management
Planning & Organizing (SJT) – Mid
Work Management (SJT) – Mid
*SJT – Situation Judgment Test for Mid Management
**AMPI – Personality Inventory
Assessments Correlation to Performance
Across the world, standardized assessments are being used for hiring for the Team Lead role in the ITeS setup. Situation Judgment Tests (SJT) when combined with personality assessment have proven to be a valid tool for predicting the job performance of an individual. SJTs are simulation-based tests that simulate job scenarios and directly test whether the candidate will respond in the desired manner. In terms of job performance prediction for the mid-management level, SJTs have proved to be far superior as compared to traditional aptitude, domain, personality and similar tests. A large scale benchmarking study done on Operational Managers in a large ITeS organization showed that there was a strong correlation between candidates' actual job performance and scores on AMCAT SJT and personality traits of Emotional Stability and Conscientiousness. Standardized benchmarks on these modules when used at the time of hiring can increase organizational efficiency by as much as 28%.