A retail sales representative is essentially the face of a retail outlet. Turning a customer's first visit into a long-lasting relationship doesn't just lie the magic of the company's products but also the pleasing personality selling it. How many times have we visited a store and decided to ignore it forever due to the experience we had with the sales guy out there or how many of us have a pet retail outlet we love to visit because of the warm hospitality offered by the sales guys.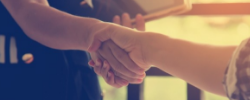 A good retail sales representative's job is very closely related to exceptional customer service and interpersonal skills with the prime objective to attract consumers and drive sales.
The Job Role and Responsibilities
The primary job roles and responsibilities of a retail sales representative include:
Agility in responding to customer's requirements and resourcefully attending to their concerns.
Engaging the customer with details of the product.
Serving multiple customers at one time.
Representing the store in a professional and mature manner.
Accurately completing billing transactions and operating cash registers.
Document sale by creating or updating customer profile records.
Receiving and maintaining store inventory and deliveries.
Competencies and Skills Required
Excellent communication and interpersonal skills are needed to excel in this role. Apart from that, work management, ability to handle stress and multiple requests at one time, prompt thinking ability are some other essential characteristics needed.
The major skills and competencies required for this role are:
Excellent communication skills
Excellent customer service skills
Ability to handle stress
Good listening skills and patience
Able to work without direct supervision
Assessment for the 'Right' Retail Sales Representative
The following table illustrates how various skills and personality traits map to assessments required for the Retail sales representative role:
Retail Sales Representative Profile Skills
AMCAT Mapping
Interpersonal Skills and Communication Skills
 Agreeableness: High
Extraversion: High
Openness to Experience: Mid
Spoken English: High
 Problem Solving Skills
 Team Management: Mid
 Ability to Manage Teams
 Logical Ability: Mid to High
 Ability to meet targets
 Planning & Organizing: Mid to High
Emotional Stability (Personality): Mid to High
Conscientiousness (Personality): High
Assessments' Correlation to Performance
Standardized assessments in cognitive skills and personality have traditionally been used for hiring sales managers. In recent years companies are adopting simulation or situational judgment tests for hiring for roles like a retail sales representative. Situation Judgment Tests (SJT) when combined with personality assessment have proven to be a valid tool for predicting the job performance of an individual, especially for managerial roles. A large scale benchmarking study done on ASMs at a large FMCG company showed that there was a strong correlation between candidates' actual job performance and scores on AMCAT SJT and personality traits of Extraversion, Conscientiousness and Emotional Stability. Standardized benchmarks on these modules when used at the time of hiring can increase organizational efficiency by as much as 26%.