Passion Economy is a new model of monetization. It is rapidly gaining popularity in India despite being at a relatively nascent stage. The 21st century commenced with a rise in people falling for a career option which they are passionate about. Gen Z discovered it the hard way. However, the millennials are gradually making their ways out through desired career options very effortlessly.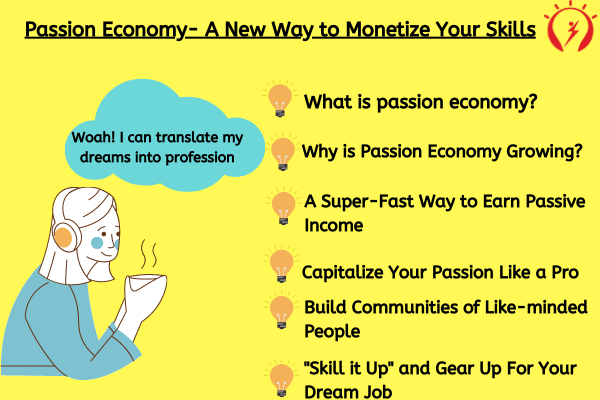 All thanks to digitization. Since everything is a few clicks away in today's time. Hence, new career options are paving the way. Due to this, one skillset can be presented in thousands of engrossing ways. This is where the concept of passion economy comes. Transform your passion into your career path. Or maybe channelize your passion into a side income. That is what passion economy is all about. Hence, wasting no time, let's discuss this topic in detail. 
What is passion economy?
So now with an enthralling introduction about passion economy, let's dive into the very concept of this monetary model. It relates to a situation where a person is self-employed.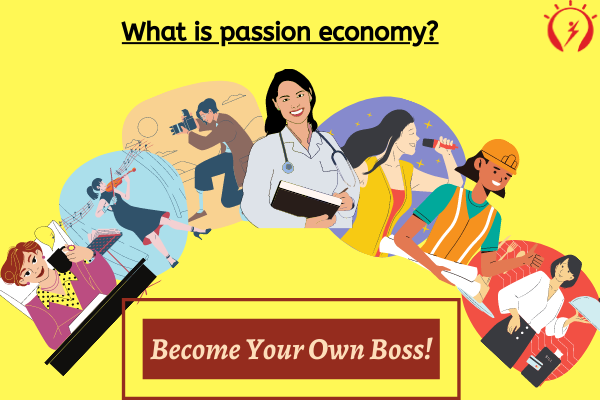 He/she offers their services to the potential prospects as per the suitability. It can be on an hourly basis or a long-term project. Henceforth, you drive your customers all by yourself. Passion economy can somewhat be regarded as a combination of a regular job and entrepreneurship.
It must not be understood the same as freelancing. Freelancing is again a customer-centric model. It puts an individual under a certain amount of pressure because there is uncertainty in terms of income and upcoming projects. However, the passion economy is more inclined towards an individual. Here you are the star or the changemaker. The more you expand your community, the more you will be rewarded for that. While you start it as a passive income source and make it a full tie job in no time. It is focussed on building communities.
Here's a "one of a kind opportunity" for you to voice out your passion. Register for AMCAT Ambition and share your career goal video with us and get a chance to win exciting prizes and recognition. It will help you build trust in your community.
Click Here to Apply for AMCAT Ambition Contest 2021
6 Reasons Why Passion Economy is Growing
These 6 key reasons are not just elucidations but six crucial benefits of passion economy:-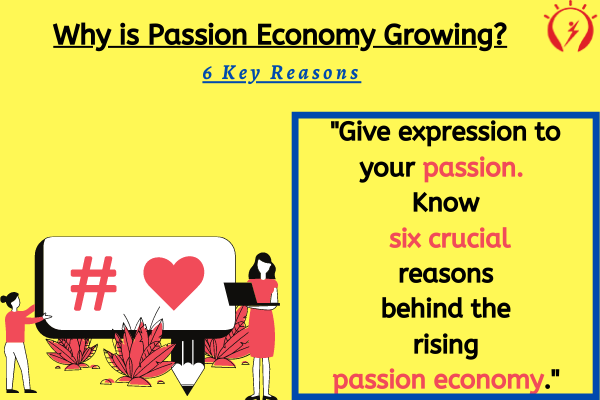 i. Build your dedicated community
Passion economy allows you to showcase your calling through various digital mediums. Henceforth, you can engage with a dedicated set of customers who may be small in numbers but genuinely resonate with your calling. As the result, you get to interact with like-minded people. Not only that, it gives you a chance to collaborate with experienced professionals in the industry. Thus, you can your uniqueness and authenticity to a committed audience. Now gradually, you start earning as you expand your audience.
ii. The number doesn't matter, individuality does!
As digital platforms like Fiverr, Shopify, etcetera swelling at an exponential rate. However, what is happening on ground reality. More professionals are offering their services for their unique skillsets. See, one must understand, everyone has a distinct way to do the same thing. Therefore, no matter how many career paths there may be, you will always have a differentiated flair of down something. Thus, your passion is your passport to new career opportunities.
iii. Job Satisfaction
When your occupation becomes your profession then your productivity multiplies manifolds. Eventually, your job satisfaction also escalates. Also, who doesn't love a side income? The passion economy model embraces experienced professional, fresher or even school student to start from wherever they with whatsoever they know.
iv. Better Job Offers on Graduation
Your dream job interview for sure depends on your hard skills and soft skills. While working on building your community during college can enhance your chances to get a lucrative job offer straight after graduating. It might seem a surprise to the young collegiate. However, they need to understand that with changing times, even the major organizations are attracted to your skillsets and live portfolio. Though a compelling resume always increases your chance your unique skill-sets will pave the rest of the path towards your dream job.
"Partner with your professional friend, the Resume Buddy. It offers you a wide range of templates and guidance to enhance your resume for that dream job.
Click Here for more details."
Henceforth, let your brand speaks for you. Every company is wanting to create a digital space for itself. While if they understand that you have already mastered that art. Why would they lose the opportunity to hire a potential employee? Thus, you can become a magnet to lucrative offers by diving into the passion economy.
v. Unique Work Opportunities
While you can establish your empire by offering your skills out there. However, this path opens for you multiple unique professional opportunities which you probably wouldn't have heard of. For example, today, brands collaborate with influencers more than celebrities. Why do you think marketing changed this way? It is because building a genuine and authentic community where you belong is a highly regarded quality. It establishes trust in the audience. Today, people get paid to visit shops and salons for honest reviews. This was just one example, by working for your passion you will get opened toe exciting job roles which you would have never thought of otherwise.
vi. Eventually you create your quirky brand
When you build your community, you naturally build your brand. It is not out of some compulsion that you do it. However, it comes out effortlessly. Your way of communicating or servicing becomes distinguishable from the rest. Subsequently, you end up building your niche.
Passion Economy: A Super-Fast Way to Earn a Passive Income
Indeed, when you have the liberty to start your desired endeavour whenever you want, then your chances to earn for your services increases exponentially.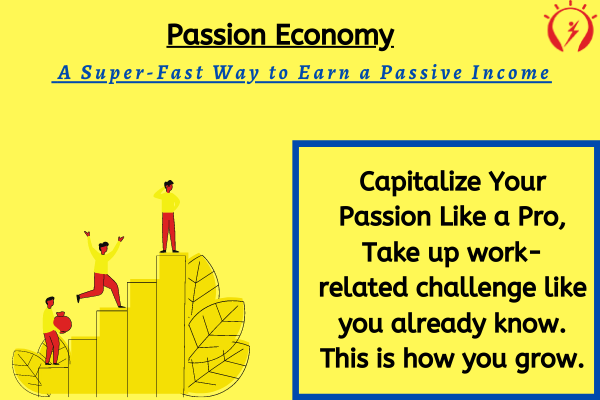 Undeniably, you won't be assured overnight success through passion economy. Nothing works overnight. But with your dedicated efforts, you can win potential clients who may eventually end up offering you pocket money or a side income for your services. You start monetizing your skills fast.
Capitalize Your Passion Like a Pro
Gone are the days when your so-called "hobbies" were just a matter of side thing. Today, you can build a career out of your longing in a hundred different ways. While you can start out freelancing your services and end up in your dreams job in a matter of a year. Or you can promote your skill set to offer guidance and eventually become a consultant. Passion economy is all about what you like. There are endless mediums today where you can showcase your skills and connect with a potential crowd who certainly need you. So capitalize your skills by forging long-lasting bonds and delineating your expertise.
Passion Economy: Building Communities of Like-minded People
This economic model is less focused on scaling to a massive level. Though it may happen eventually that is not the root purpose.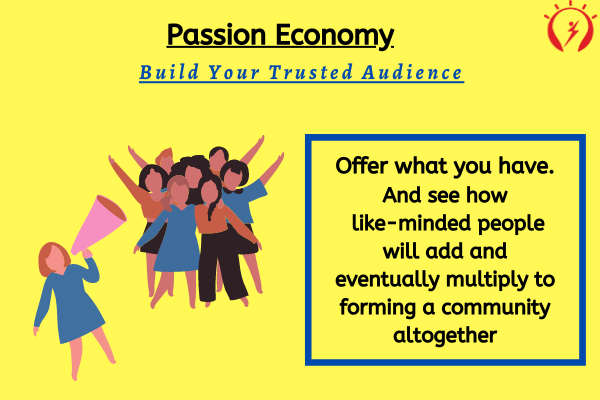 The idea behind the passion economy is offering what a majority may not demand but a certain section that sincerely appreciates it. Henceforth, a professional is able to build a trusted community-driven for that purpose or skill. It gradually influences masses at an extraordinary level.
Passion Economy- Leading a Career Pathway of Your Choice
Gone are the days when your passion and job could not be the same. Now, you can follow your passion and open up some really exciting career option for yourself all by yourself. It is not just limited to that.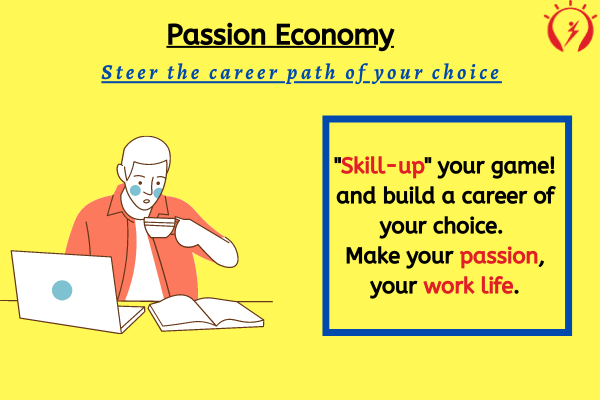 Apart from side income sources, you can leave your current work and start out independently whenever you want. Hence, you can establish a profitable business out of this.
"Skill it Up" and Gear Up For Your Dream Job
Now that you are of a blooming working model, its time to enhance what you like. it is now time to expertise in something which you like. You can offer trust in the audience through various certification. These documents eventually showcase your mastery of what you are creating.
You can apply AM skill Certification to build authenticity amongst your audience.
"Passion Economy" is Transforming Your Outlook on Jobs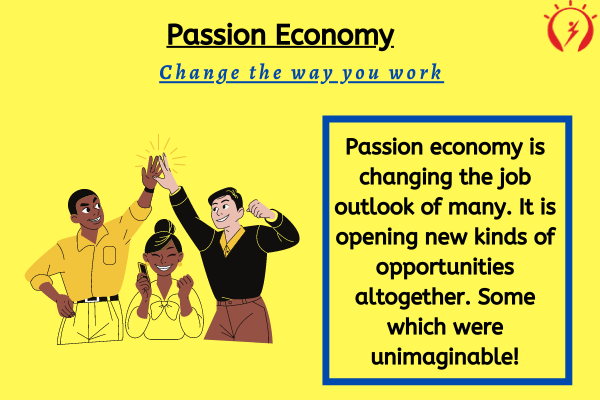 We had a limited outlook towards jobs all this while. Today, there are new kinds of skills in demand. If you don't keep up with that pace, then you will lose out on many opportunities. Jobs are no more linear now. They are diverse and you too kind find your ways out of it. Even if the career of your choice does not exist, then also you can create one out of it. After all, your living in the age of Passion Economy!
All the best!