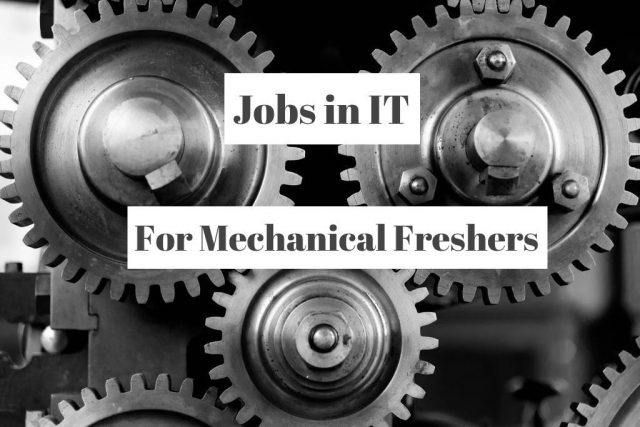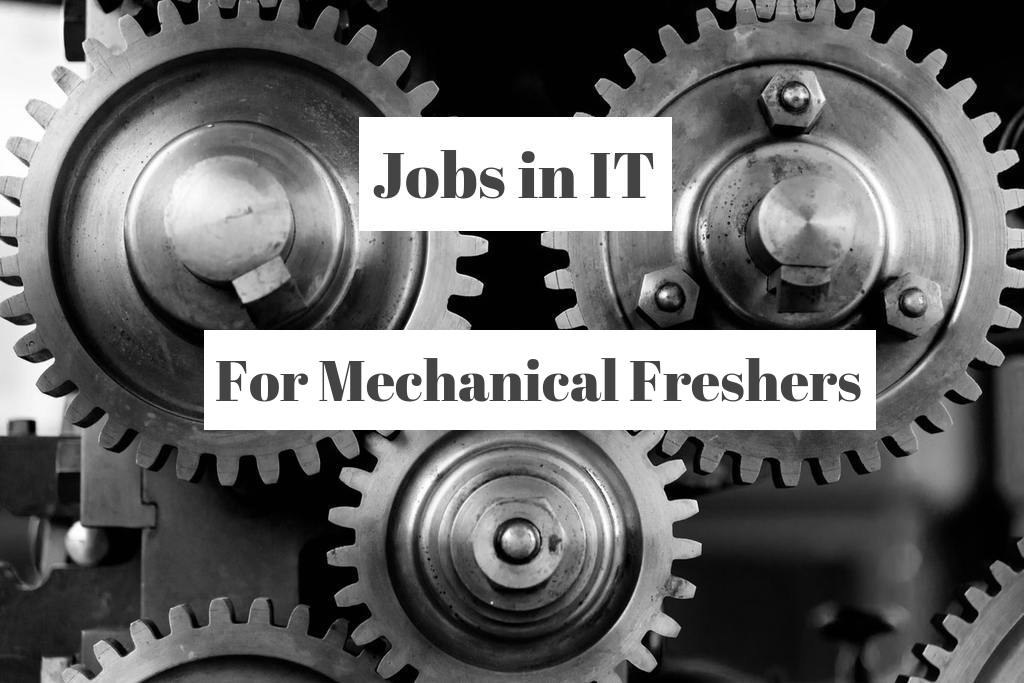 Mechanical engineering is one of the most in-demand engineering disciplines today. Every year, a stream of mechanical engineering freshers graduate with their bachelor's degree and do their best to get a job with a reasonable salary package.
However, it's not very easy for all mechanical engineering freshers to find a high paying job.
India still lacks the infrastructure and the facilities to improve in the recently emerging sectors such as Automation and Robotics reducing the opportunities of jobs for mechanical engineering freshers to a great extent.
That being said, being a mechanical engineering fresher has its own perks.
They can find job opportunities in many different fields, one of them being jobs in IT companies.
Yes, a mechanical engineering fresher can very easily find a job in an IT company. This is because companies during recruitment offer jobs for mechanical freshers believing that every mechanical engineer is first an 'engineer' and therefore is perfectly capable of using their knowledge of science and mathematics to carry out the work in hand after a little training.
Every mechanical engineering fresher before taking up a job in IT company must remember that they are most probably leaving their domain behind and taking up a job that will require them to work hard in order to push themselves up.
In order to get the job, the mechanical engineering freshers must make sure they are well prepared for the AMCAT, have brushed up their knowledge of C & C++ and have proper knowledge of the IT company they are looking for job in, to be able to face the interview.
Now that you know that being a mechanical engineering fresher you can work in an IT company, here is a list of top IT companies that are offering jobs for mechanical freshers:
Tata Consultancy Services Limited is one of the leading IT companies in India.
It is an Indian multinational information technology service, consulting and business solutions company that has its headquarter in Mumbai, Maharashtra.
It is a subsidiary of the Tata Group and operates in 46 countries. The company hires engineers from all divisions from mechanical to IT.
The freshers are trained in different areas and put into different projects depending upon their suitability to a particular project. The engineering and industrial services(EIS) division of TCS is where a mechanical engineering fresher would rightly belong.
Cognizant, a growing IT company that provides IT services, including digital, technology, consulting, and operations services, is a wonderful company to start looking for IT job for freshers.
If you do your part, they will push you up. They offer a wide spectrum of benefits and development programs that rewards and equips the freshers to grow and acquire new skills.
Cognizant will give you training according to your domain, so you need not worry being a mechanical engineering fresher of not having the subject knowledge.
Wipro Limited is another IT company that offers jobs for mechanical engineering freshers.
It is an Indian Information Technology Services corporation that has its headquarter in Bengaluru, India.
Writing the AMCAT exam is one of the ways a fresher can go for off-campus recruitment, or arrange for an interview through referral through anyone working in the company itself.
Freshers looking for jobs in IT companies should consider looking for one in Infosys.
Infosys Limited is an Indian multinational corporation that provides business consulting, information technology and outsourcing services.
It has its headquarters in Bengaluru, Karnataka, India. Infosys has big clients like Harley Toyota, who have core business in mechanical.
However, as a fresher in IT company, your job will be handling, supporting, developing, integrating IT division of such companies. Thus, making sure these clients do not face any hassles in running their IT operations. For this purpose, Infosys gives adequate training to its freshers.
Conclusion
The easiest way for mechanical engineering freshers to get a job in IT company is through campus placements. Most companies offering IT job for freshers opt for campus recruitment in which they recruit freshers from different domains.
And that is where AMCAT comes in really handy as it helps preparing for the campus interviews as well as off-campus placement support.
So, yes, mechanical engineering freshers CAN work in IT companies!