The job selection process is being carried out for most of the companies without any pause despite the ongoing pandemic situation. Such a smooth transition could only be possible because of virtual interviews.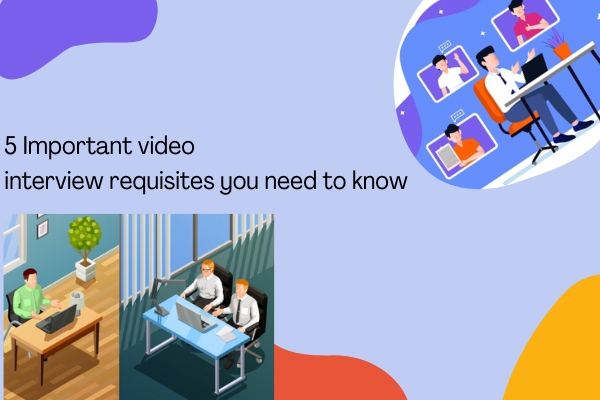 As recruiters are moving towards this virtual paradigm shift, it is important to align accordingly.
The COVID 19 pandemic has somewhat transformed the professional scenario. Leaders are foreseeing that remote working will be on a significant rise in the future.
Thus, the very first step of a job process, i.e. an interview is also shifting online. There is a significant increase in virtual interviews today.
Companies are hiring through screens in the "blink of an eye!" Therefore, it is essential to accustom accordingly.
When there is no physical interaction, then you are supposed to embrace a new body language that will ensure your communication is effective and uninterrupted.
Delve into the essential tips and changes you need to ensure a seamless interview round.
Tips to Ace Virtual Interviews
1. You can maintain eye contact virtually too-
Yes, it is possible. Don't ignore these details. Rather, in the video interviews, it all the more becomes crucial because you are not physically present here. Therefore, this will hook them in an effective conversation.
If you are looking down or swaying your vision too often, it may even give an underconfident impression. Thus, maintain a stable sight.
2. Keep your attire formal no matter you may be getting interviewed from home-
Indeed, many of us have become accustomed to casual wear due to prolonged sitting at home. However, don't let this habit hinder your way. Treat your virtual just like the normal one.
Show equal seriousness here, thereby ensuring the least friction. Groom yourself as if you're going out for the usual interview. Yes, changes are happening but your conduct must not suffer. Instead, blend it well with this transpose.
3. Ensure a stable internet connection-
Let technology become a medium of ease and not a troublesome affair. It is a great opportunity for us to get a job sitting home today. Therefore, let's learn the right approach to make the best out of it.
Ensure a stable connection to avoid any communication loss at the later stages.
4. It would be better to use a laptop and headphones-
Since a laptop provides better internet bandwidth along with stable support, therefore it is a better option over a phone. Also, by using headphones, you can focus better on the interview questions than on external noises at home or wherever you are placed.
5. Use a tripod stand or another support if you are joining through the phone-
Using a tripod stand again enable you to establish sturdy support. In this way, you don't have to hold the phone by yourself. It avoids excessive strain on your arms during a prolonged interview round.
Besides, it doesn't appear professional while interviewing in an uncomfortable posture. Also, ensure a plain background instead of a fanciful one.
These 5 tips will create the right space by instilling the required readiness within you.
Prepare for your dream company virtual interview with AMCAT Mock AI. Click Here to register.
What if the situation goes wrong during a video interview?
The above-listed points are sort of a checklist. However, it doesn't guarantee that everything will be the same. There may be situations wherein your network goes off or you fail to arrange a laptop.
Thus, you must ensure everything works to the best of your capacity. If something goes wrong, then do not lose calm. Simply tell the recruiters that there was some glitch in the process and you have fixed it. It is as simple as that. You do not have to cook up stories for such instances. Rather, stay confident and proactively fix the problem.
Also, kindly ensure a backup internet connection during a video interview. So that even if the power goes off, you continue to use the second option.
So now that you are through with the nitty-gritty of virtual interviews, give your best shot the next time you appear for one.
Book your AMCAT slot for your dream job now. : Click Here
All the best
Get in touch!