Font for resume beholds an important role in deciding your chances of getting selected for a job. One may ask why such a small thing can be a deciding factor?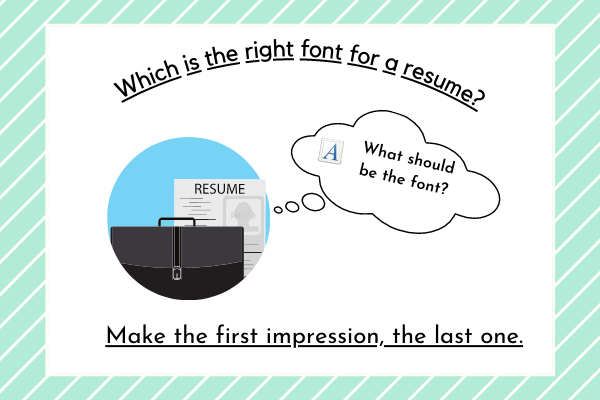 A well-written resume tells a lot about your seriousness towards the job. On the other hand, a casually presented one may just pass by a recruiter at the first glance. They don't have much time to look through one's intentions or limitations.
A well-presented application hooks them till the end and eventually urges them to take the next time, ie, fixing the job interview.
So yes, never undermine the font of a resume because it impacts your presentation.
Scroll down to know more.
Importance of choosing the right font for resume
Your job application process starts right with the resume. Therefore, it is essential to take care of minor intricacies which may not be noticed when done right but will surely hamper your chances when done wrong.
Choosing the right font plays a pivotal role in deciding how well the recruiters will perceive the resume. When an application comprises informal font, it will show the frivolous approach of the applicant. This, in turn, may lead to the rejection of the person before the job interview itself. Therefore it is necessary to pay attention to details. Let's see few options that can make or break your resume.
How to decide the right font for a resume?
Since a resume is written for official scenarios, therefore professionalism must reflect on your applications as well.
1. The font must have a formal tonality,
2. Minimal usage of italics,
3. It should be clear,
4. The size of the letters should neither be too small nor too large.
Safest font option for resume
Now that we know, formal tonality is significant while writing a job application. Therefore, here are few perpetual options that you can vouch for when confused:-
1. Calibre and
2. Times New Roman.
You can keep the font size to up to 12. In this way, it ensures a moderate size which keeps up the visibility and maintains the right space.
Always remember, the resume should never be too long. Therefore taking care of the size is yet again a crucial detail.
Other font options for resume
Apart from the above options, you may also go for the following font styles:-
1. Georgia,
2. Garamond,
3. Cambria,
4. Verdana.
There are many other alternatives, which you may employ. The idea is to keep it away from all sorts of fanciful fonts.
Type of fonts to avoid
Here are a few options which should be avoided as they have an informal tone.
1. Comic Sans MS,
2. Caveat,
3. Lobster,
4. Pacifico.
Your professional guide to curate the desired resume
People embarking on their professional journeys, often struggle in writing their resume well. After all, the first impression has a lasting impact. Freshers face a hard time in presenting their exceptional skills as they lack any prior experience. However, this mustn't bog them down. Rather, they must understand that their practical knowledge through side projects, internships, holds a great chance to add value to their resume.
However, the presentation on the same can actually become a hard time for some.
So there are tools with which you can take professional assistance to write a resume according to the job role. Otherwise, you can even check your already written resume score through these impactful tools.
One of these is AMCAT resume buddy. Its seamless approach in taking care of all the minor details such as resume layout, resume format, font for resume, etcetera can amplify the impact of your application.
Click Here to register for AMCAT Resume buddy. 
You may wonder how? It is because Resume Buddy assesses everything from a recruiters point of view. Thereby, it offers the best possible solution owing to the professional scenario. Besides, it takes care of your personality and job aspiration. Thus, it bridges the gap between your intentions and recruiters' expectations.
Hence, it is like a one-stop solution for all resume related problems.
So the next time you attempt writing your resume, take care of these intricacies carefully.
All the best
Get in touch!