Wondering what is the best words to describe yourself? Are you tired of introducing yourself in an uninteresting mundane way during an interview or while writing that important job application?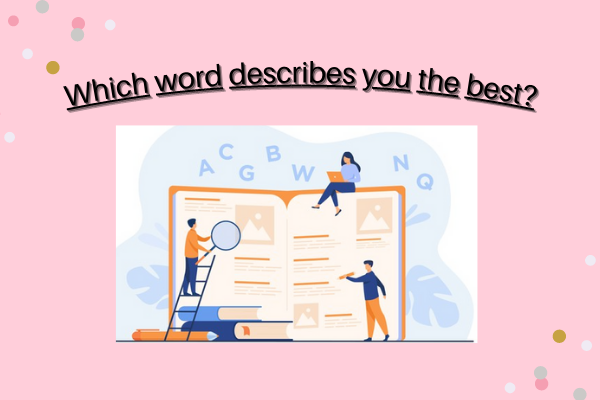 When you set out on the professional path, you are required to describe yourself in almost every scenario right from sending that resume application to the job interview and even after landing a job too.
A diverse vocabulary may offer the same meaning but it can have a different impact altogether.
It can improve your chance to get selected for your dream job.
"It can make a boring resume application into an engaging one with the interplay of of words."
Therefore, scroll down to know the best words to describe yourself.
Importance of using different words to describe yourself
Good communication is always a common requirement in various job. Besides, your portfolio, resume or cover letter can engage a recruiter simply with the usage of assorted words.
Therefore, in the following segment, we will be delving into the list of best vocabulary to describe yourself.
However, before that, it is best to understand yourself first. You can do so by identifying your strengths and qualities according to the job role.
Usage of words to describe yourself in different scenarios
Very often, "describe yourself?" is a common question asked during an interview. Also, official situations may demand you to tell about yourself in one sentence or even one word.
Therefore, when you develop a word library for yourselves, it helps you in standing out in every facet of the job application process. It makes you an effective and persuasive communicator and that is a fundamental requirement irrespective of your job role.
Do you want to learn English to improve your business communication? Here is how you can do so?- AMCAT MyEnglish is a an adaptive tool to improve your skills from basic to the professional level of communication. 

Click Here to register.
List of Best Words to Describe Yourself
Kindly fit these words according to your qualities and traits:-
1. If you wish to describe yourself as an organized person:-
i. Meticulous,
ii. Methodical,
iii. Disciplined,
iv. Systematic
2. To focus on good communication skills:-
i. Articulate,
ii. Listener (Remember, communication is not just about speaking, it is equally about listening),
iii. Conversationalist.
3. To showcase professionalism
i. Diligent,
ii. Reliable,
iii. Team Player,
iv. Industrious.
4. To showcase your value time
i. Punctilious,
ii. Prompt,
iii. Opportune,
iv. Proactive.
5. If you are highly logical
i. Analytical,
ii. Reasonable,
iii. Pragmatic.
6. If you share a high EQ- Emotional Quotient
i. Empathetic,
ii. Keen understanding to enhance brand value,
iii. Driven to make the product more consumer-friendly,
iv. Thoughtful.
Click Here to register for AMCAT MyEnglish
Numerous situations can be described well with a diverse usage of vocabulary.
However, the above presented were the most crucial traits which are needlessly required in various phases of professional life. Thus, here was an all-inclusive list to present in diverse official situations.
Now that you have additions in your vocabulary, go all out and articulate yourself in the best possible ways.
All the best
Get in Touch!