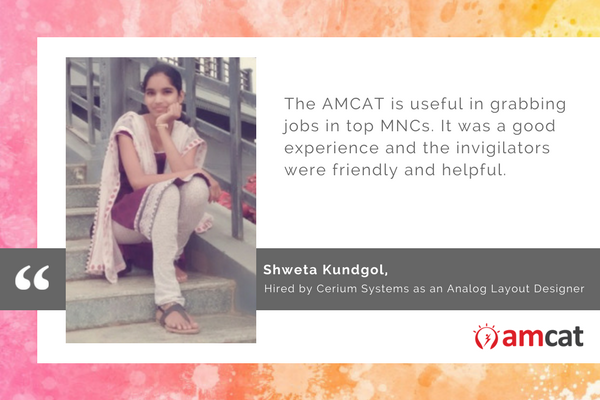 Paper crafting enthusiast Shweta wouldn't have imagined an interview call with an MNC like Deloitte before giving the AMCAT Test. From papers to analog layout, this is how she managed to get a designing profile she cares for, courtesy the AMCAT Test.
One of my friends suggested me to take the AMCAT as it helps us to get into good companies with the desired profile.
Hubli-based Shweta Kundgol completed her graduation in 2016 from SKSVMACET Laxmeshwar. Though she had a job search arc of her own while searching for her own fresher job, she took out the time to recount her own AMCAT test experience.
Kundgol took the AMCAT test on peer recommendations. Did it help? "The AMCAT is very useful in grabbing jobs in top MNCs. Overall, it was good and the invigilators were friendly and helpful."
"There are 5 sections – Quantitative Aptitude, Verbal Aptitude (English), Logical Reasoning and two technical sections. You can select technical sections based on your branch. Prepare and practise a lot of aptitude questions with focus on the basics."
It took her some time to receive an interview call and she recalls her first as the most memorable one. "My first interview call was for Deloitte. I got a total number of 15 interview calls."
At Cerium Systems, the company that she was selected for and currently works with, the interview process was a smooth one. "It involved a case study which was more like a group discussion with a real-time issue. As I was new to all this, it became quite an experience for me."
In the end, we asked her if she would recommend the AMCAT Test to others, based on her own experience. "Yeah, I will recommend it. I have got interview calls for both IT as well core domains. It is genuine and worth the exam fees."
Thanks Shweta for sharing your story. If it inspired you towards the AMCAT Test, we encourage you to go ahead and schedule a Test today.