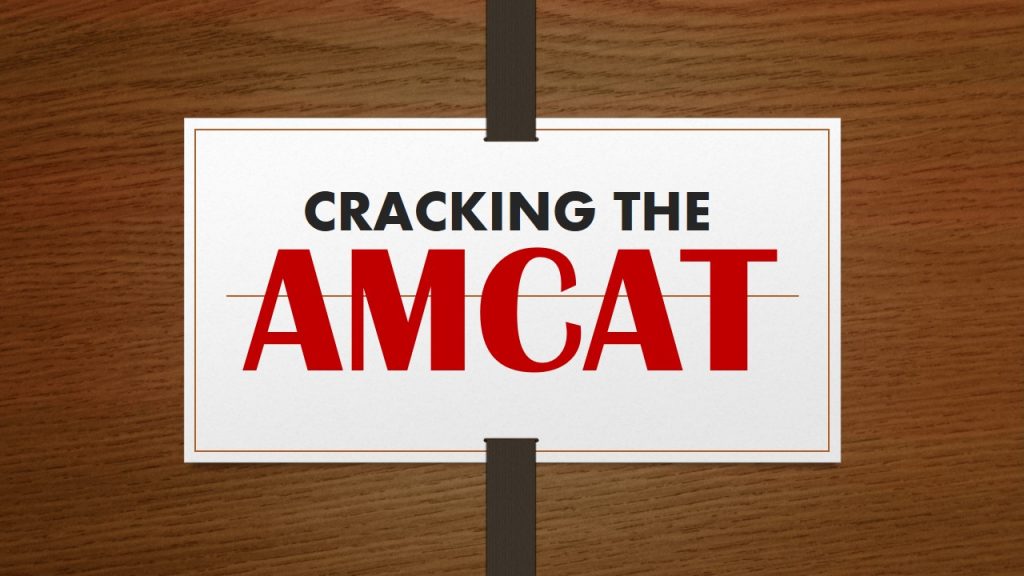 Nearly three months after we first explored the right way to prepare for the AMCAT Test Quantitative Ability module (A.K.A Quants), we're back on Quants again – trying to help out all those students who are preparing for their upcoming skill assessment test and are not 'Maths inclined'.
Freshers, especially graduating students in 2017 and those who would enter the job front next year, know that they have a small window to gain the most advantage. Fresher jobs have been less this year, with many companies choosing to hold back on fresher hires, even considering retrenchments and layoffs.
So, what should you do? Try your hand at the AMCAT test, which analyses students on language, quantitative ability and logical reasoning (apart from domain knowledge). And showcases your strengths on these parameters to more than 2000+ recruiters.
Different 'Quants' Modules: Tech vs Non-Tech
Broadly, the quantitative ability modules for both Tech and Non-Tech variants share the same syllabus –
Basic Mathematics:
Divisibility, HCF and LCM, Numbers, Decimals and Power, Logarithms, Inverse, Permutation and Combinations and Probability
Applied Mathematics:
Profit and Loss, Simple and Compound Interest, Time, Speed and Distance, Inverse
The difference here lies in the grade of questions that come for Tech and Non-Tech variants, with the latter facing a more complex set. Here are some examples:
Calculating profit percentages: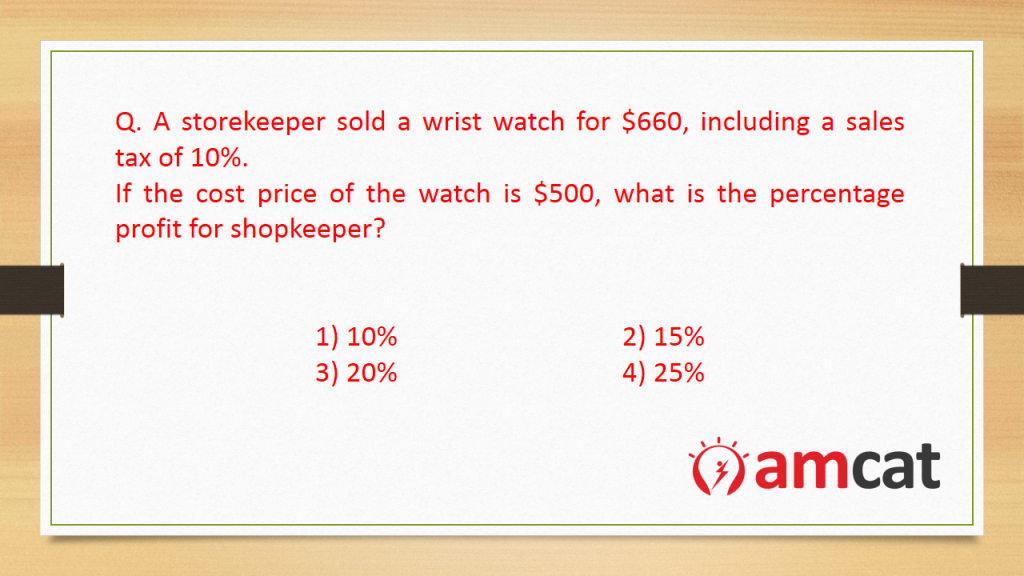 Here is the solution: Option 3
Let the actual selling price of the wrist watch, exclusive of sales tax, be 'x'.
Sales tax = 10% (Given)
According to the question,
(10/100)x + x = $660
x (0.1 + 1) = $660
1.1 x = $660
x = $600
The cost price of the wrist watch is $500. (Given)
Profit earned = $(600-500) = $100
So, profit percentage = (Profit earned / Cost price) * 100
= (100/500) * 100
= 20%
Here is an example of a simple calculation: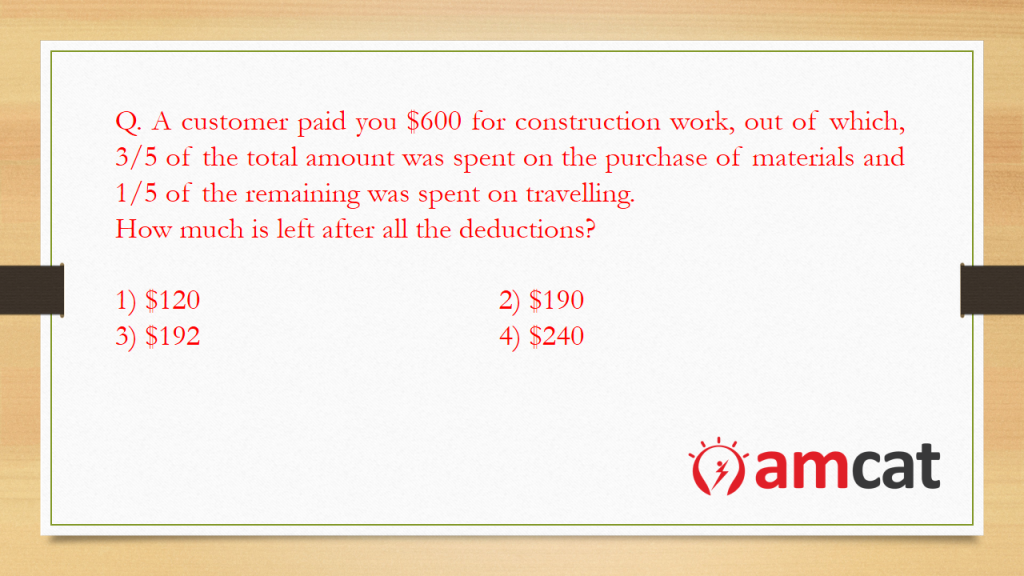 Here is the solution: Option 3
Total amount paid by the customer for the construction work = $600
Amount spent on the purchase of materials = 3/5 of the total amount = 3/5 * 600 = $360
Remaining amount = $(600-360) = $240
Amount spent on travelling = 1/5 of the remaining amount = 1/5 * 240 = $48
Total amount spent = $(360+48) = $408
Amount left after both the deductions = $(600-408) = $192
Keen on preparing further? General preparation books for CAT and GMAT can help – you could also look into AMCAT sample papers and study accordingly.