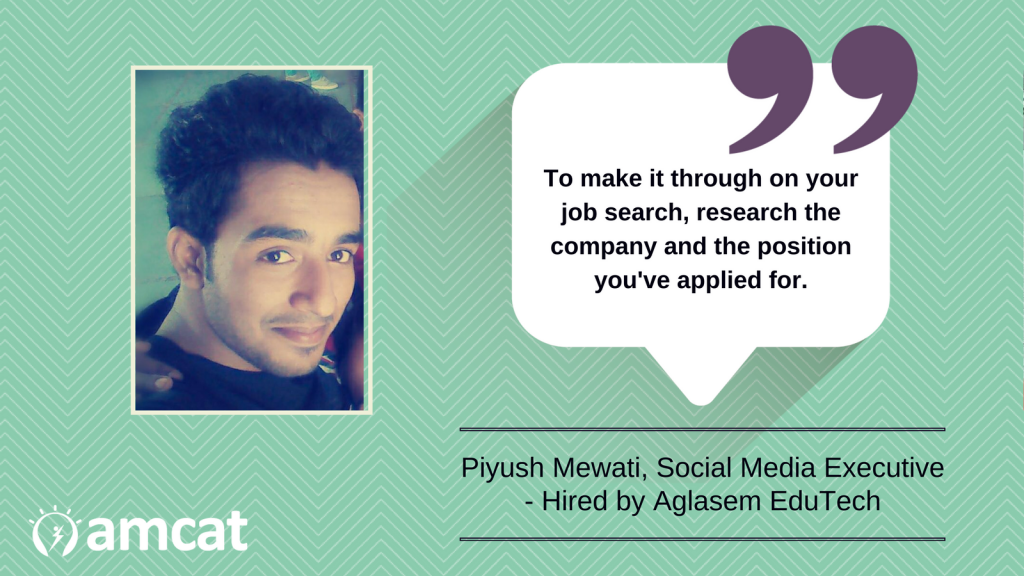 Many times, you find yourself pulled in a separate direction from your intended career arc – a slightly different role, a more creative pursuit or even a dramatically different tangent. And that is the tangent from where we begin today's tale – the story of a Computer Science engineer becoming a social media executive. This is Piyush's story – a recent Aglasem hire.
Meet Piyush Mewati:
Piyush Mewati, a Delhite, had an inclination towards creative pursuits from the beginning – dividing his free time in his love for photography, acting, singing and writing. So, he aspired for a more creative career stream, than just depending on his education, which would lead him to computer science or coding. "I just wanted to follow my heart so I chose Creative Field as my career."
As an Aglasem hire, he would work in such a stream at the educational technology company, joining in as a social media executive.
"I took AMCAT because I was fed up paying amounts to consultancies which I saved from my pocket money."
In terms of his job search journey, Mewati had had a shaky beginning, opting for consultancies and recruiters. And he felt that it had not helped at all. And that's why he decided to invest in the AMCAT Test. "Moreover, I have heard a lot about it from my friends, so I also decided to give it a try."
The AMCAT Test Experience:
"The AMCAT Test was awesome. Invigilators were kind and helpful, location was also decent, questions asked were outstanding, and I never felt like I was giving an "EXAM", rather it was more of an experience."
And a week later, he started to receive relevant interview calls from different companies. This also included the call from Aglasem EduTech, the company he finally cracked.
The Job Interview Process:
When it comes job interview processes, the one that this candidate faced to become an Aglasem hire was straightforward. A written aptitude test, focused on his English grammar and vocabulary, led to this round. And he prepared for it with the help of social media!
"I just went through the company website a night before and the profile as well. Also, I checked for the frequently asked interview questions from different social media websites."
Now, that he has found his dream fresher job, we asked Piyush Mewati whether he would recommend the AMCAT to others. He said, yes.
"Surely, it is a great way to get in touch with the corporate instead of going to consultancies which could either be fake or ineffective."
He also had some parting words to share with any aptitude test aspirant. "Before going for an interview, prepare for the interview process – go through the website of the company and get an overview about it and the profile for which you have applied. At the time of the interview, try to maintain your attitude and confidence as you qualify one round at a time."
We wish Piyush the very best on his road ahead. And as we close on this story, we hope that it helped you understand how the AMCAT Test can help someone achieve their career dreams.