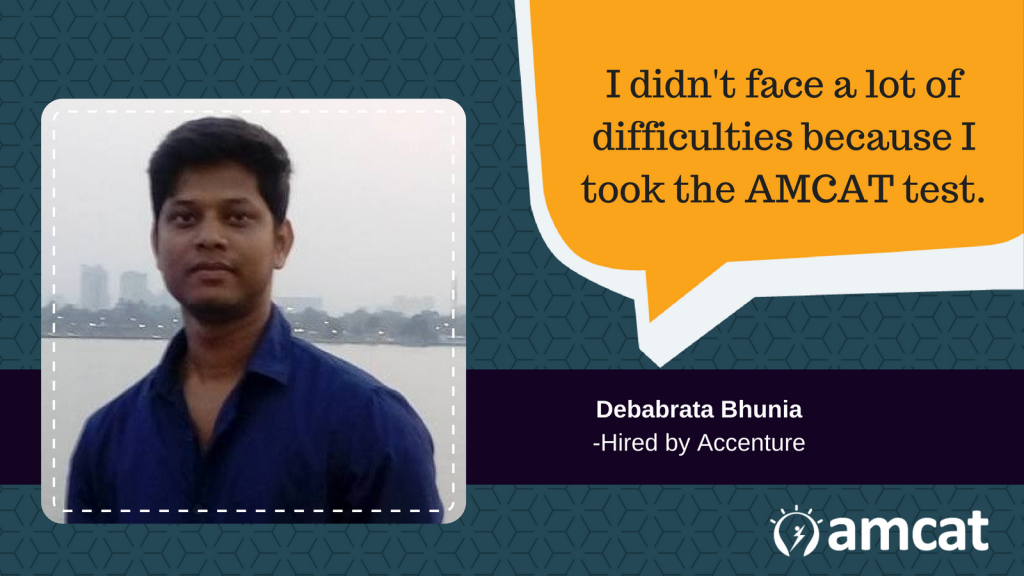 Ever thought you could get what you wanted in your life, just by wishing for it? Today's AMCAT success story underlines this in the simplest way possible – as Debabrata Bhunia found out for himself.
Meeting Debabrata Bhunia
A civil engineering graduate from 2016, Bhunia is a West Bengal student, who completed his B.Tech from KIIT University. And he began his journey with a simple career goal. What's that? "My career goal is to get a good job in a reputed company."
AMCAT Test and Beyond
Bhunia was on a simple job search when he had decided to give the AMCAT test. And he's thankful for his decision. We had asked him if he had faced any difficulties over his job search journey and his answer was – No.
"I didn't face a lot because I took AMCAT test. It actually works and I got placed at Accenture."
How? "I scored well in the test and within two days I got my first interview call from Accenture." In fact, Bhunia's tale in the second one in recent times where we have seen candidates outline themselves how hard work and preparation helped them sail through the career-based skill assessment test.
Tips of the Trade for other Job seekers
Now that his AMCAT test journey has come full circle, would he recommend it to others? This is his reply. "Yes of course. I think AMCAT is the right platform for fresher to get a job in an MNC."
"I would like to suggest to take AMCAT Test immediately to all Job Seekers and just believe in yourself and never lose hope. ALL THE BEST GUYS!!"
All the best to you to Debabrata. Now, that you're about to begin a new job, you need patience, preparation and soft skills of a different kind to ace this ladder. We hope you find some of it through our self-development and careers segment.