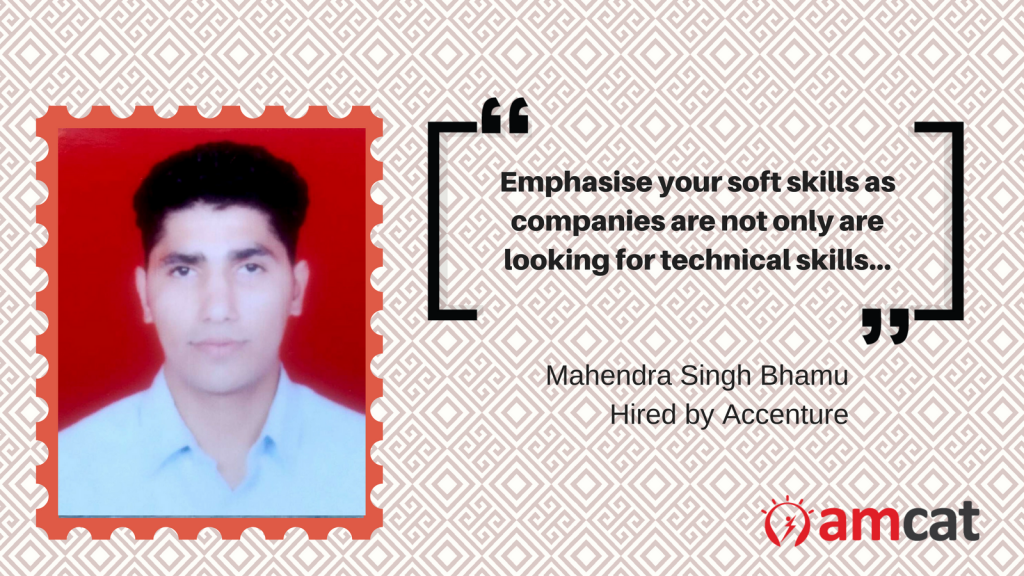 Finding a good, stable job in a large organisation – that is what 'most of those who head to the job market hope for. And as many would tell you – it's not easy. Which is one of the reasons why we try to bring you stories of those who made, as part of our ongoing achievers' diaries.
Keen on an engineering jobs success story, which ended with the proverbial pot of gold? Then read today's AMCAT success story of Mahendra Singh Bhamu – now hired by Accenture.
Before the AMCAT journey
Mahendra Singh Bhamu had been looking for a job for some time after passing out from his college in 2016. A resident from Rajasthan, he had finished his engineering from Dr. D Y Patil College of Engineering in Pune, where his family had been living for the last seven years.
What was he looking for? "My career goal is to gain a respectable position in an organisation and create my own identity and make my parents feel proud."
And what was hurting his job search? "…(Its) very hard for the individual to find a job without any reference or an external support and for me that external support was provided by AMCAT."
The AMCAT Test
In our feedback session with Mahendra, we asked him how he was able to turn things around. This is what he said, "I prepared for AMCAT and scored good marks and got calls from many big companies. These included my dream company i.e. Accenture in which I am placed now AMCAT."
Let's break it down – with a strong preparation, he went ahead and gave the test. And then waited for calls. How long did it take for him to receive his first call?
"I got my first interview call within a week." The first of four, he shared.
And if he had to describe his overall AMCAT success story, how would he put it? "I feel it is the best and easiest way to find a job through AMCAT. AMCAT provides a very detailed analysis and feedback of exam and this helped me to improve my weak areas."
Career tips for those seeking fresher jobs
Would he suggest this path to other job seekers? "Yes, definitely. AMCAT provides the platform where an individual gets what he/she deserves."
Thanking Bhamu, we asked him to leave us with a few parting words which could help other job seekers in getting a good job. "I would suggest: emphasise your soft skills as companies are not only are looking for technical skills, they're looking for strong soft skills.
Keen on a chance to explore the AMCAT test? Try scheduling one for yourself today.