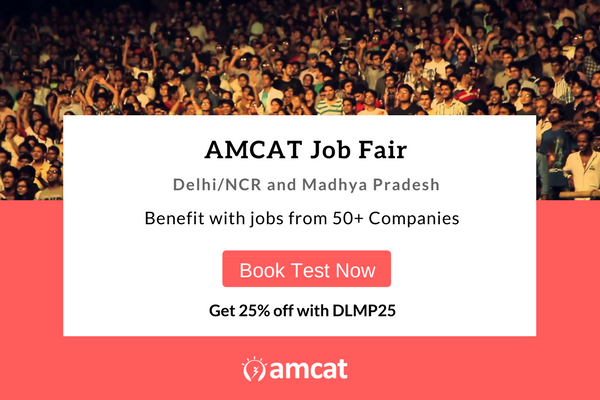 Waiting to unlock exciting job opportunities for yourself before 2017 ends? Then listen up! The AMCAT Online Job Fair for Delhi/NCR and Madhya Pradesh has begun. Here is how you can make the most of this opportunity, by booking an AMCAT test today.
The AMCAT Online Job Fair
A month-wide activity, the AMCAT Online Job Fair for Delhi/NCR and Madhya Pradesh, will help AMCAT candidates connect with jobs opportunities in these two locations from Dec 1 – Dec 31.
This is how it works:
1. AMCAT Test-takers (with an active AMCAT score) in these two locations will receive a jobs digest for select, exciting opportunities.
2. Apply to select jobs in 50+ IT companies, MNCs and Startups for jobs in Software/Analysis/Accounting and Core Engineering.
The offer is limited to those students with:
Active AMCAT score
Delhi/NCR and Madhya Pradesh location
0-2 years of work experience.
How do you benefit from it?
If you qualify under all three conditions, then simply wait for the online campaign to deliver, matched relevant jobs to your mailbox. Once you apply to a position, your candidature would show up with the company.
If you haven't taken an AMCAT Test till now, don't worry.
Click here to book your AMCAT Test and get a flat 25% off the test fee by entering this coupon code: DLMP25.
But remember – It takes one week to be able to apply to jobs after you give the AMCAT test. Choose your test date wisely to avail maximum benefits from this month-long job fair.
If you need a hand in preparing for the test, then read these blogs:
What's the AMCAT Test? What can you expect from it?
AMCAT Test and How to Go About It