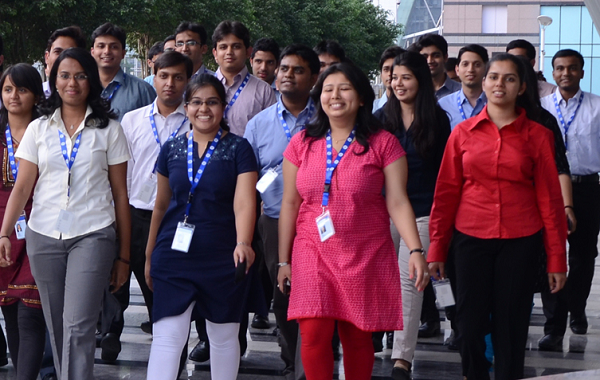 The great AMCAT Hiring drives for students are in full swing. A day ahead of the festive month-end to September, we have tabulated the number of test takers, who have taken the exam, appeared for a job interview on the basis of it and succeeded in gaining a job offer in hand. Here is the breakdown of the drives that you should know:
Bangalore is on a high!
Location-wise, most of the AMCAT candidates who were able to get confirmed job offers, are from Bangalore and Hyderabad (39 offers), followed by options in NCR (New Delhi, Ghaziabad, Noida and Gurgaon combined). Locations in Maharashtra and Kolkata are further down the line.
Developers are on a role!
The demand is high for software developers across platforms (be it product/service-based), or on multiple avenues – UI/UX, Android, Mobile, PHP, frontend and others (A list of positions in IT jobs can be found here). Next in line, are positions in business development and customer service.
Here is a complete breakdown of all the job offers which were rolled out in multiple AMCAT Hiring Drives over the month:
Sno.
Company
Location
Role
Offers
1
Josh Technology Group
Gurgaon
Front End Developer
1
2
Wealthchaser Global Research
Indore
Relationship Executive
8
3
Kay Bouvet Engineering Ltd.
Maharashtra
Junior Engineer
1
4
Adroitec Information Systems
Bangalore/

Kolkata/

Hyderabad

Sales Executive
7
5
Neova Solutions
Pune
Quality assurance (Automation)
1
6
Infinx Services Pvt. Ltd.
Mumbai
Account Receivable Trainee
2
7
Unicus Infolabs Private Limited (GetMeCab)
New Delhi
Inside Sales Executive
3
8
Bellurbis Technologies
Gurgaon
Software Engineer
3
9
Edurite
Bangalore
Sales Agent
2
10
Tutor Vista
Bangalore
Sales Agent

Customer Support – International Process(Voice Process)

Sales Agent – International Process

1

2

3

11
IVEDA India
Noida
Marketing Analyst
1
12
Mynenis It Solutions Pvt .Ltd
Hyderabad
UI Developer
1
13
Anzy Careers Pvt. Ltd.
Bangalore
Recruitment Specialist
5
14
Tratoli Tours LLP
Mumbai
Business Development Executive

Operations Executive

1

2

15
RevClerx Pvt Ltd
Mohali
Client Service Executive
1
16
ContinuServe Softech India
Bangalore
Trainee Engineer
1
17
Megha Circuits
Ghaziabad
PCB Designer
1
18
EON Networks
Gurgaon
Business Development Executive
1
19
The Giz Shop Pvt. Ltd.
Bangalore
Web Developer
1
20
TopHawks Marketing Solutions
Chennai
Sales Executive
6
21
Uber India Systems Pvt Ltd
Hyderabad

Bangalore

Brand Ambassador & Airport Associate

Operations Associate

6

3

22
Optime Technologies OPC Pvt. Ltd.
Bangalore
PHP Developer
1
23
Hello Parent
Bangalore
Business Development Manager
1
24
Quikr India Pvt Ltd
Bangalore
Operations Executive
2
25
Work Advantage
Gurgaon
Business Development Manager
1
26
Logiquad Solutions
Pune
Software Developer
3
27
TechBliss Solutions
Ghaziabad
Business Development Executive (Tele Counselor)
1
28
Rivigo Services Private Limited
Gurgaon
Operations Associate
1
29
Opticode Technologies
Kanpur
Software Developer
3
30
Regrob
Noida
Digital Marketing Trainee
3
31
BenErg Software Solutions Private Limited
Hyderabad
Customer Care Executive
1
32
Aglasem EduTech Pvt Ltd
Gurgaon
Social Media Executive
1
33
Haygot Education Pvt Ltd (Toppr. com)
Mumbai
Direct Sales Associate
1
34
S2 Analytics Private Limited
New Delhi
Business Development Manager
2
35
Piquor Technologies Pvt. Ltd. (RepUp)
Gurgaon
Customer Success Manager
2
36
InSync Tech-Fin Solutions
Kolkata
Trainee Implementation Consultant (IT product)

Product Documentation Executive (IT product)

Business Development Executive (IT product)

2

2

2

37
DataFlair Web Services Pvt Ltd
Indore
Technical Content Writer
5
38
SeniorWorld
Gurgaon
Software Developer
2
39
Aarardhya Investment Adviser
Indore
Relationship Executive
2
40
Forty Two Estates
Bangalore
Sales Executive
1
41
Onnyx Electronics
New Delhi
Customer Support Coordinator
2
42
Novire Technologies Pvt Ltd
Gurgaon
Sales Manager
2
43
ThinkBiz Solutions
New Delhi
Content Writer
1
44
Sigmoid
Bangalore
Business Development Executive (Intern)
1
45
Utopia Innovations
New Delhi
Backend Developer
1
46
Mahindra and Mahindra
Coimbatore
Graduate Apprentice Trainee (Manufacturing)
2
47
HDFC Bank
Kolkata
Virtual Relationship Manager
6
Has this information led you to think about an AMCAT-powered opportunity? You can apply for any of the current set of hiring drives – for a Junior Engineer role in Mindtree or an Associate Engineer position in Aricent.