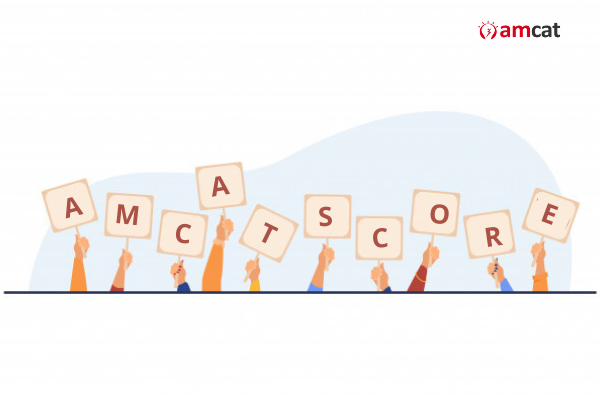 The coronavirus pandemic has impacted the business world, with employees working remotely and hiring on hold, it is not easy to find the right IT jobs. On the brighter side, sectors like consumer goods, e-commerce, supply-chain provider and IT are recruiting additional workforce to meet the increased demand.
Hiring managers are taking the help of AI-powered recruitment tool to shortlist potential candidates based on their AMCAT score. There are plenty of job opportunities available on the AMCAT job portal for you to start applying and getting your first job. Exclusive fresher jobs like Software Engineer, Research Engineer, Technical Support Enginner and Product Engineer are on the portal.
Now, if you want to grab one of these exclusive job opportunities, then you need to have a solid AMCAT score across all the modules.
AMCAT Score Cut-Off
A good AMCAT score is subjective to the company and the job role. However, a score of 550/900 in both the compulsory and optional modules is considered to be good.
English
The minimum score for the best IT jobs
Above 500
Quantitative Aptitude
The minimum score for good IT jobs
Above 550
Logical Reasoning
The minimum score for exclusive IT jobs
Above 500
Aspiring Minds Personality Inventory
The minimum AMCAT score for IT jobs, in this case, would be
Above 550
A solid score of above 550 will surely boost your chances of getting the best job opportunities. So, stay on top of your AMCAT preparation to increase your chances of getting the best IT jobs amid the pandemic.
AMCAT Preparation Tips
Getting a good AMCAT score isn't a tough feat to achieve without the right preparation tips. So, to help you achieve the best AMCAT core, here are a few tips that might come handy.
AMCAT Syllabus
The first step towards getting a solid score in the AMCAT exam is by going through the AMCAT syllabus. This will help you instantly identify the areas where you might need to work extra hard. The AMCAT syllabus of both the optional modules and compulsory modules are here.
Sample Question Papers
Once you have covered a significant portion from the AMCAT syllabus, you should start prepping with sample question papers on the AMCAT site. Solving sample questions will help you boast preparation and will help you get a hand of the types of questions asked in the exam.
PrepAMCAT
With PrepAMCAT feedback report you will be able to identify the areas where you should work hard. Moreover, the stimulated version of the AMCAT exam will help you check your readiness for the exam. By solving past AMCAT questions you will be able to prepare accordingly.
Conclusion
Even during the lockdown, AMCAT successfully placed more than 100 candidates in companies like Compass, EY, Zoho, ESI Group and KNOREX for profiles like Software Developer, Research Engineer and Technical Sales engineer. So, just focus on your AMCAT preparation and get a good AMCAT score, we will take care of the rest.