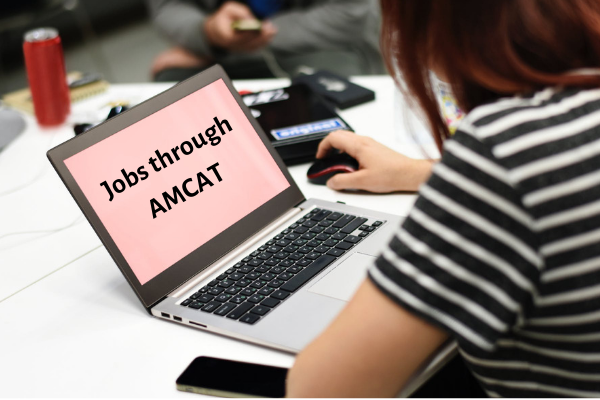 Thousands of great opportunities ✔
Popular brand names ✔
Great salary package ✔
The AMCAT exam houses a lot of opportunities for the deserving candidates. Irrespective of your background (the college you come from or your CGPA), the AMCAT exam provides equal opportunity to everyone to prove their mettle.
However, despite the fact that AMCAT brings job seekers and recruiters under one roof; giving them a chance to seek each other out, there are certain conditions that you must keep in mind to enjoy its full benefits. That is, whether it is easy to get a job through AMCAT or not depends on how you approach things.
A good percentile
If you want to bag the best of job opportunities available on the AMCAT jobs portal, then your percentile should be worth it. A good percentile can open up a lot of career options for you and make the recruiters trust you a lot more.
Try to score well in each module to avail the full benefits of AMCAT. What a good AMCAT score is; we can find that out through this blog – Ideal AMCAT Score That Will Get You The Attention Of The Recruiters
Now that you have a vague idea about what a good AMCAT score is, work towards achieving it.
Doing well in the compulsory modules
Most people are so fixated by scoring well in the optional module or the subject-based modules that they pay little attention to the compulsory modules. Of course, the optional modules are important but the compulsory modules give the recruiter a more rounded idea about who you are and what you do.
They tell the recruiters whether you would fit in well in the company or not and what are your other strengths and weaknesses. In fact, if you want to understand more about why the compulsory modules are important, then you should read this blog on the topic. 
Is getting a job through the AMCAT exam easy?
If you have a good percentile, have done well in the compulsory modules and have chosen a module that goes well with the stream you want to be in, then yes, why not?!
Getting a job through AMCAT is not all that tough if you play all your cards right. However, since AMCAT hosts a lot of job options, you should apply for them keeping in mind which ones would suit you best – the job location, profile, package, etc.
And, there are many more ways that you can improve your chances of getting interview calls after the AMCAT exam and ultimately moving on to a good job.
You can share your AMCAT score on social media handles like LinkedIn or Facebook to tell the recruiters that you are ready to take up new challenges and are talented and skilled enough for it. Similarly, you can add your AMCAT score to your resume, especially if you have a percentile to boast of. This will lend weight to your job resume and make you come across as a much better candidate.
As for more tips on how to maximise interview calls after the AMCAT exam, check out this blog!
So, getting a job through the AMCAT exam is only as tough as you make it. If you score well, share your scores at the right places and with the right people and apply for jobs religiously, then getting a job through AMCAT won't really be a tough task for you.