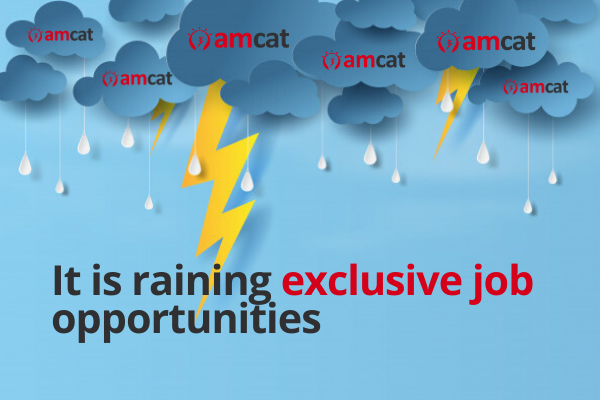 COVID-19 pandemic has turned the world upside down; companies are operating remotely, and the future is filled with uncertainty and fear. However, the good news is that companies are still on a lookout for potential candidates based on their skills.
And, to find potential candidates, the hiring managers are using AMCAT to shortlist candidates. Hard to believe? Visit the AMCAT job portal to take a look at the companies that are hiring.
Moreover, recruiters are also taking the help of virtual tools like Skype, Zoom, and Hangout to interview shortlisted candidates.  Continue reading to find out how AMCAT will help you in your job search during these trying times.
AMCAT From Home
We have always been committed to your success. And, keeping both your safety and job search in mind, we have introduced AMCAT from home. Now, you don't need to step out of your home for jobs because opportunities will knock on your door.
So, don't let this pandemic put a full stop on your job search. AMCAT is here at every step of the way. To know more, you can go through this AMCAT from home blog.
Free Certification
The COVID-19 induced lockdown presents you with the right time to learn, develop, and hone your skills. The best way to show the recruiter how serious you are about your job search is by having relevant certifications under your belt.
That is why if you book the AMCAT exam, then you will get free access to one of the AMCAT certifications of your choice. So, start building your candidature and look for the future beyond this outbreak.
Exclusive Job Opportunities
AMCAT exam is designed to quantify your skills and show the recruiter how skilled you are. With a solid AMCAT score, you can apply to exclusive job openings on the AMCAT job portal.
Use the AMCAT exam to the fullest and give your job search the boost it needs. Get a solid AMCAT score and show the recruiter that you the ideal candidate for the job role.
Best of luck!