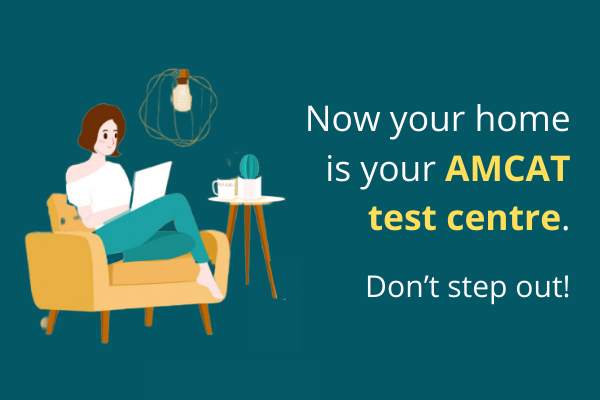 As the pandemic is gripping the world, the urgency to contain the virus has increased. And, that is why we are doing our bit to ensure that you are safe while your career doesn't suffer either. That is why, we are bringing the AMCAT exam 'test center' to your home.
This virtual version of the AMCAT exam will ensure that you don't have to put your health at risk by venturing out. Instead, this will be a great time for you to utilize this time to prepare for the AMCAT exam and your upcoming career ventures and emerge out of this time with a great job in hand.
Continue reading to learn more about how you can give the AMCAT exam from home.
Steps To Schedule Your AMCAT Exam
To schedule your AMCAT, follow these steps –
Visit the MyAMCAT home page and provide your details like your name, stream, contact information, and more. Before submitting, make sure all the details are correct.
You don't need to select the city in which you want to give the exam because your home is your test centre. You just need to select the date and time of your exam.
Now, go to the payment page, apply discount coupons (if you have any) and start your preparation for the AMCAT exam.
Once, you have booked your AMCAT exam and selected your exam slot, these are the steps, you need to follow to give your AMCAT exam seamlessly.
Login in your dashboard by going to your MyAMCAT account with your credentials.
Start the online test by clicking on the ' Start test' button on your dashboard. Be on time as the exam link will be active only during the chosen time slot.
Select your optional modules and fill in all the asked details. All the best for your AMCAT exam.
You can get your AMCAT score after 48 hours of giving the test. Use your AMCAT score and start applying to opportunities.
After you get your AMCAT score, you can use it to apply to exclusive tailor-made job opportunities on the AMCAT job portal. You can apply to multiple job opportunities with your scores.
So, to schedule your AMCAT exam, you only need to get your details ready and rest is up to us. You can drop in your queries and concern related to scheduling the exam in the comment section below.
Get gear up and don't let COVID-19 put a full stop on your job search.
Stay safe! Stay successful!