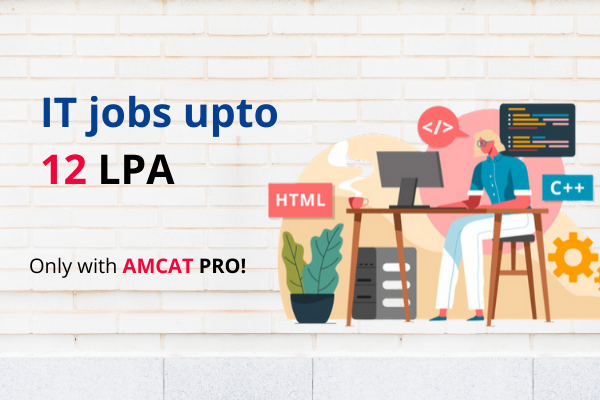 Are you looking for good IT jobs which pay well? If yes, then AMCAT PRO: The Job Assurance Program by Aspiring Minds is just the thing you need. Unlike AMCAT, AMCAT PRO comes with a guarantee of at least three interview calls within three months.
And not just that if we fail to live up to our promise of getting you assured job interviews then, you will get your money back. Now, isn't it a winning bargain for you?
So, now is the time for you to kickstart your job search for IT jobs with AMCAT PRO and welcome the opportunities coming your way.
IT Jobs With AMCAT PRO
Once your AMCAT scores are generated, you can apply for exclusive job opportunities on the AMCAT job portal. On the portal, the majority number of jobs are IT jobs. Moreover, they cater to different IT domains such as software, electrical, application development and many more.
Renowned companies like Verizon Data Services, Tech Mahindra, NTT Data, Cognizant and more are hiring AMCAT Candidates.
AMCAT PRO guarantees a minimum of 3 interview calls in these big IT companies. The only thing you need to do is get a good AMCAT score to enjoy the promised benefits. To get an idea of what kind of scores you need to get the highest paying salary package, you can consult the table below.

The CTC of the IT jobs curated for you by AMCAT depends on which membership you qualify for.
However, if you score less than 400 in any of the modules and lower than 16 in AUTOMATA Fix then you are not eligible for AMCAT PRO. Therefore, work hard and try your best to get the Gold Membership.
AMCAT PRO Eligibility Criteria
If you are a 2019 batch pass out, then AMCAT PRO: The Interview Assurance Program is for you. You can get a good AMCAT score and use this opportunity to kickstart your career with some great job opportunities.
If you are not a 2019 batch pass out, then you can opt for the regular AMCAT. There are plenty of job opportunities on the AMCAT portal for you to apply in on your own.
How Do You Get Interview Calls?
On the AMCAT job portal, more than 450 companies post jobs regularly. Plus, the salary ranges from 3.5 LPA to as high as 12 LPA.
Unlike the regular AMCAT, with AMCAT PRO the job opportunities will be sent to you by the AMCAT team based upon your score. However, you can also apply for jobs on the portal using your AMCAT score. So, the only thing you need to worry about is getting your AMCAT score sorted.
AMCAT PRO will make your hunt for the best IT jobs easier than ever before. So, prepare well and aim for 5 LPA+ interview calls.
If you have any question or confusion regarding AMCAT PRO then, you can ask them in the comment section below.
Best of luck!