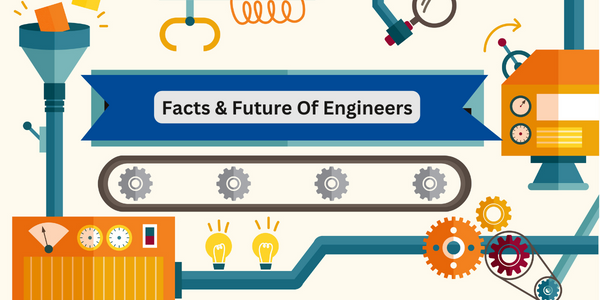 If there is anything that is widely followed by people after religion, it's Engineering. Not just this, India is called the land of Engineers.
On Engineers Day, India pays tribute to one of the well-known engineers that we all have heard of. The most prestigious engineer of India, none other than Sir Mokshagundam Visvesvaraya. He followed the ideology of simple living and high thinking throughout his life.
The unusual, interesting, and alien group of individuals are engineers. Isn't that weird?  It's typical for engineers to be nerdy and geeky. That clearly shows that you haven't met one. Their world is usually more fascinating the more eccentric they seem from the outside.
An engineer's intelligence and knowledge can blow up your mind. By putting in countless hours of group study time with buddies, skipping courses, performing poorly in examinations, or engaging in conflict with individuals from other branches. They have experienced each and everything and have tried every entertainment and fun you can think of.
Register for AMCAT | India's Leading Fresher's Assessment and Job Site (myamcat.com)
They enjoy finding solutions to issues, and occasionally they even come up with them. Crazy, right?
Although they may emphasize on celebrating technology-related joys of life, they have mastered the skill of living an amazing life. We are grateful for their existence as they introduced us to the world of the impossible, which includes inventions, innovations, and creativity. We have great respect for engineers because they accomplish things that are impossible for us.
That's why AMCAT is celebrating Engineers this entire month and not just one single day. Let's celebrate 2022 Engineer's Day with AMCAT for students with MCA, BCA, B.Tech., M.Tech., M.Sc, BE, ME, and B.Sc backgrounds, with our ongoing campaign Transformers: Ace of Engineers.
Engineers always play a special role in contributing to the nation, here are a few interesting facts about engineers.
Sir Mokshagundam Visvesvaraya was the first engineer of India. The government of Bombay recruited Sir M Visvesvaraya in the department of public works as Assistant Engineer.
The First Female Engineer in India
How many of you, know the answer to this? A Lalitha was the first female Electric Engineer in India. Not just this, but she was also the first female student at Chennai College of Engineering.
This branch of Engineering is called as Father, Mother, and King of all the branches. Students from this branch often say, 'We Are Royal Mech'.
Oldest Branch of Engineering
Do you know the answer to this? Civil Engineering is the oldest branch of Engineering.
Telangana celebrates Engineer's Day on the 11th of July as a tribute to Ali Nawaz Jung Bahadur and not on September 15th.
These were some amazing facts about the engineers. Let us now talk about their future. Where is this course heading in the coming years? Engineering is a booming career in India at present and it will be in the future as well. If you are looking to have a bright future, you must give AMCAT now and get closer to your dream job. Not just this, you can also apply to the multiple opportunities which are available on the jobs page of myamcat website.
The future of Engineers is safe and secured. More than 2500 engineering schools are there in India. Engineers from India are hired for a variety of positions, right from project delivery to process performance. Studies say that in 2021–2022, there will be a 300% rise in hiring for engineering positions.
Students must consider the performance of the industry they will work in while selecting their BTech courses. They must do a good amount of research on the company they have applied for. Research should not be limited to a company's products, and services. But should include research on hiring managers, the latest news available in the market on company achievements, company vision, and mission statement, and the company's recent financial performance. If all these steps are followed, then every Engineer will definitely have a secured career.