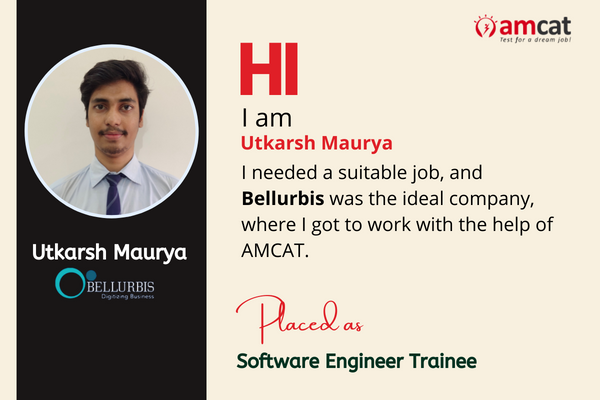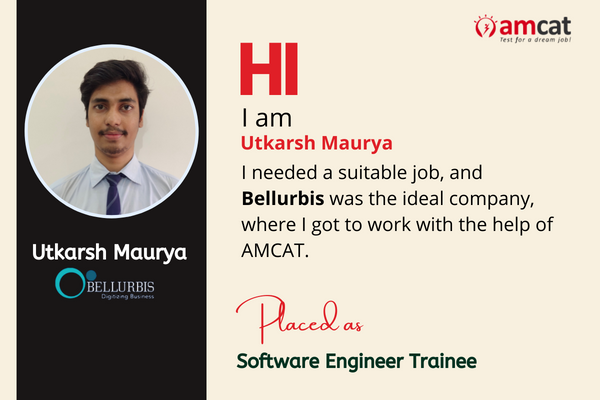 Registering for and giving AMCAT has been the best decision, that I have ever made. It helped me in finding and achieving my dream job.
If you want to know more about my experience, continue reading and get more details about my journey.
Tell us about your job role and the company where you got placed with the help of AMCAT?
"I got placed in Bellurbis Technologies as a Software Engineer Trainee, with the help of AMCAT."
What were your focus points when you started your job search?        
"Utkarsh told us that he opted for AMCAT for 4 reasons majorly – bigger brands, better salaries, relevant job profiles, and job location."
How did AMCAT help you in getting this job?
"I am thankful for this platform and the whole team. AMCAT helped me in enhancing my learnings and getting placed in a reputed organization, told Utkarsh."
Register for AMCAT | India's Leading Fresher's Assessment And Job Site (myamcat.com)
While looking for a job, what all difficulties did you face? Please elaborate.
"Finding a job requires a plan. As a fresher, one usually does not know where to start from or what to start with. I was also facing the same problem. I lost my confidence and momentum after getting rejected by various companies. I had difficulties in finding the most suitable and effective job opportunity platform as there is so much competition in the market. But eventually, I got the one."
How did the AMCAT feedback report help you assess your performance?
"AMCAT feedback report provides subject-wise scores that helped me to assess my performance. It enabled me to manage my time and energy according to the scores. Also, it contained personality test feedback that is very important for any job. Claimed Utkarsh."
Would you recommend AMCAT to others? Also, can you mention 3 main points that you liked about AMCAT?
"Yes, I'll definitely recommend AMCAT to others.
The things which I liked about AMCAT are:
Easy employability test.
Subject wise scores
Areas of improvement feedback."
We Wish You All The Best For Your Future!