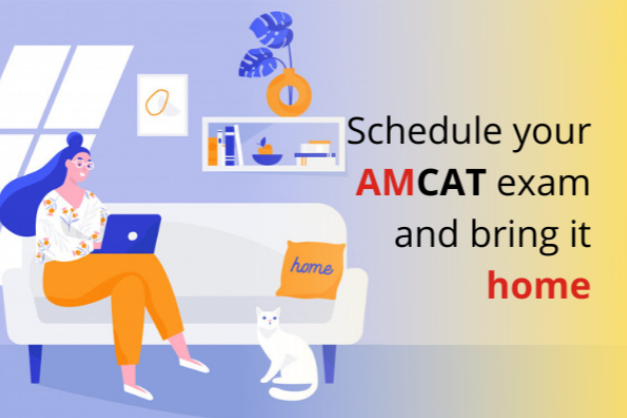 In the wake of the COVID-19, we are taking every precautionary measure to ensure that your job search continues smoothly and unfettered while maintaining safety protocols.
That is why, now you can give the AMCAT exam from the safe confinement of your home without stepping out and putting your health and well-being at risk. You only need to have a computer/laptop with a camera and a working internet to take the exam.
This lockdown shouldn't and doesn't mean that your dream of a good job should be put on hold. In fact, this is an opportunity for you to grow, succeed in your career and emerge on top.
Opportunities with AMCAT from home
This time period is a chance for you to start preparing for the AMCAT exam and the upcoming interviews. It is an opportunity for you to prepare yourself for a future beyond the COVID-19 outbreak. And, with AMCAT from home, we are making your task easier than ever.
AMCAT hosts 450+ opportunities every year and to avail these jobs, you just need to book your AMCAT, get a good score and start applying for jobs. Since your AMCAT score will be valid for a year, you will have ample time and chances to keep upgrading your job throughout.
How To Schedule AMCAT Exam From Home
To schedule AMCAT from home, here are a few steps that you need to follow –
Go to the MyAMCAT home page and fill in the form with all the required details such as your name, stream and percentage. Any incorrect information will jeopardize your chances of getting jobs. Therefore, make sure all the information is correct.
You only need to select the date and time of the exam, the test centre and city will now be your home.
After this, you will be taken to the payment page. There apply the discount code (if you have any) and make the payment.
Once your test is scheduled, you need to start preparing for your AMCAT exam. Here are a few handy AMCAT preparation tips that can really take your preparation up several notches.
Taking AMCAT from home – steps and measures
To take AMCAT from home and to ensure that your experience is smooth, here are the steps and measures that you should follow –
Go to your dashboard and log into your MyAMCAT account.
To begin your online test, click on the 'start test' button on your dashboard. Your AMCAT ID will be displayed on top, please note it down for all future references.
It is important that you are on time for the exam, your exam link will expire after the time slot is over. If you miss the time slot, then you will have to pay to reschedule the test.
Before starting the test, you will have to choose the optional modules that you want to opt for.
Note: Don't forget to read the instructions provided at the start of the test.
You will receive your AMCAT score after 48 hours of giving the test. In addition to that, you will also get a detail AMCAT feedback report which (as has been mentioned by many of our AMCATeers) can really help you understand your strengths and weaknesses and prepare for the future aspects of the job search.
Once, you have your score, you can start applying and exploring opportunities while staying at your home. So, start preparing, give the exam and emerge on top.
Upskill your opportunities by choosing AMCAT at home.
Stay safe and keep exploring!