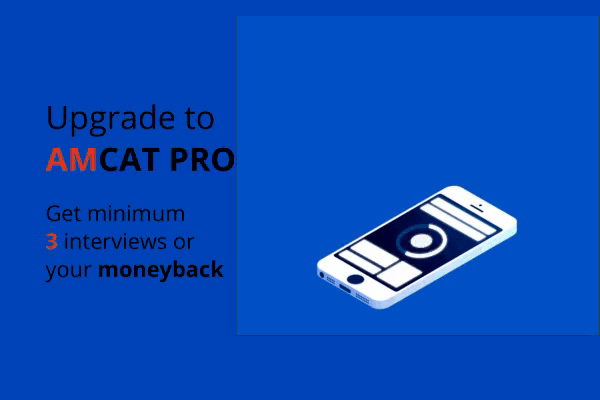 Do you want assured interview calls even when the job market is more competitive than ever before? if yes, then you are at the right place. AMCAT PRO: The Interview Assurance Program is a new offering from AMCAT and unlike the regular AMCAT, this interview assurance program comes with the guarantee of at least 3 interview calls within 3 months. And, if we are unable to send you the promised interview opportunities, then you will get your money back.
To be eligible for this win-win program, you need to score more than 400 across all the modules and more than 16 in AUTOMATA FIX. If you fail to get the required minimum score, then you will not be eligible for the AMCAT PRO guarantee.
The package of the interviews you get will depend on your AMCAT score.
AMCAT PRO score and membership

Based on your scores in the AMCAT PRO exam, you will be assigned one of the three memberships. Consult the table below to get a better understanding of the memberships.

Your lowest score will determine the membership you qualify for. For example, if you get a score 450+ across all the modules and 46+ in AUTOMATA FIX, then you will qualify for Silver membership and 4 LPA+ interview calls.
It goes without saying that if you want the best interview opportunities possible, then you will have to score 500+ across all modules (compulsory and optional) and 46+ in Automata Fix. That means, your performance needs to be well rounded and exceptionally good.
Now that you are aware of the benefits of a good AMCAT score, let's check out how you can book AMCAT PRO.
Step By Step Guide To Book AMCAT PRO
To schedule your AMCAT PRO exam, you will have to –
Visit the AMCAT PRO home page and click on "Book AMCAT PRO now".
Fill in your details like name, year of graduation, email id and more.
Choose the date and time for the exam. Due to COVID-19, now your test centre is your home. 
Go to the payment page and start gearing up for the assured interview calls coming your way.
Note: AMCAT PRO is only for 2019 batch candidates who have a full-time degree approved or recognised by AICTE and UGC. However, if you belong to any other batch, then you can opt for the regular AMCAT.
Give your 100% and we will take care of the rest!
Best of luck!