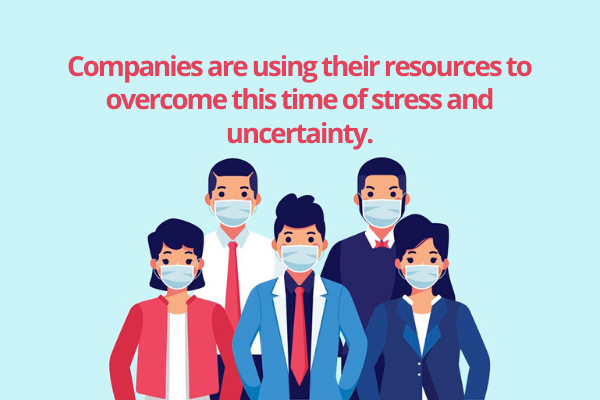 In the light of the COVID-19 pandemic, we understand that a lot of uncertainty has prevailed especially when it comes to job search. Over the last few days, with the country adjusting to the lockdown, we have been trying our best to help you continue your job search.
All the companies are working from home with a few exceptions. However, even in such tiring times, many companies are doing a really good job.
Here is how they are able to achieve such a feat and made it look seamless.
Move To A Virtual Platform
Due to the coronavirus lockdown, companies are using virtual platforms like Skype, Hangout, Whatsapp, etc. to keep their employees safe as well as to continue their operations. Companies like Amazon, Microsoft, Swiggy and more have been able to move to the virtual platforms effortlessly. In addition to that, they are able to carry out all the essential businesses through these platforms effectively, while also prioritizing the safety of their workers and audience.
Moreover, companies are also moving their recruitment process online to make it easier and safer for both the recruiter and the candidates. A lot of companies are currently opting for AMCAT from home to shortlist candidates based on their skills and job readiness. So, if you want to make your job search, then you should have a good AMCAT score with you. However, if you don't then you can give the AMCAT exam from home without stepping out.
Software And Companies In High Demand
Employees working from home have greatly driven up the demand for video and chat softwares that will allow both the employees and employers to stay connected with each other during the lockdown.
The workplace software from companies like Zoom, Microsoft and Google have seen tremendous growth in the past few weeks. Most of the companies are enabling users to use their premium work software for free amid COVID-19.
In terms of growth, these tools were already very popular and now, because of COVID-19, their popularity has skyrocketed. For instance, Zoom became the most downloaded business app followed by Hangout and Google conferencing software.
Self-isolation and quarantine has resulted in an increased media consumption in the form of shows, movies, web series, sports and more. Streaming companies like Netflix, Prime, Hotstar and more are in high demand and are seeing huge traffic. It is safe to say that COVID-19 is helping them churn out high profits as more and more people are taking their subscriptions.
Birth Of New Companies
The ongoing pandemic has changed the way we live our day-to-day life. It is especially affecting how the organisations work and how long will they be able to keep on running effectively.
One thing that is helping the organisations run is cloud computing. It comes handy when you have a huge data set that you need to store. The cloud permits companies to process, analyze and share crucial data easily. Due to this, there are chances that more and more companies will emerge to keep up with the constantly increasing demand.
Companies are using their resources to overcome this time of stress and uncertainty. So, you don't need to stop your job search because of COVID-19.
Kickstart your job search while being safe.
Best of luck!