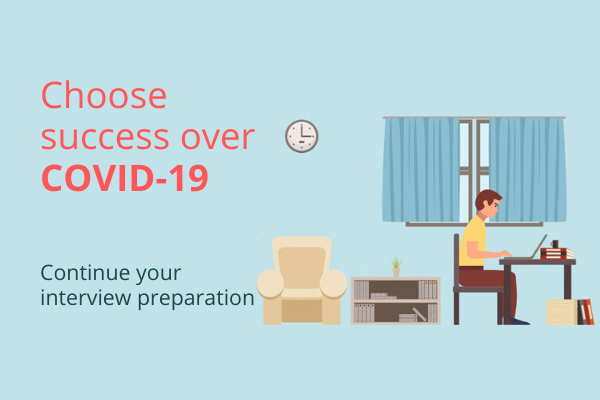 In the wake of COVID-19, there is a lot of uncertainty and speculation in the job market. Most of the companies have stopped the recruitment till the end of April/May, while other companies have shifted to a virtual recruitment process.
Companies like Google, Facebook, Amazon and more are conducting the online job interview for the duration of the Coronavirus pandemic. More than 450 companies are using AMCAT to shortlist potential candidates. So, if you haven't given the AMCAT exam, now you can take it from home. Moreover, For both the recruiters and job seekers, online interviews are easy to reach out to each other without risking your health, safety and job search.
So, in order to ace your online interview, we have come up with a few interview preparation tips that will help you bag the job offer.
Interview Preparation Tips
These are a few elements that will improve your chances of success.
Confirm the mode of interview
The first thing you need to do is confirm the format of your job interview. Ask the recruiter questions to help you understand what you will need for your job interview.
Whether it is telephonic/video interview.
Any application/software you need to download or install for this interview.
Do you have to pre-record your interview?
Asking questions like this will help you make your online interview experience seamless. Moreover, it will help you prepare well in advance for the interview.
Common interview questions
No matter the mode of interviewing, the questions asked by the recruiter will remain the same. Therefore, make sure that you have prepared answers to some of the common interview questions. Doing this will take your interview preparation by a huge margin.
Find your spot
If possible, try to find a good spot in your home where you won't be disturbed or get distracted. Also, it will be better if you decide on your interview spot a day before the scheduled interview time. Doing this will help you avoid last-minute hassle and anxiety.
Dress for the job
Although, you are giving the interview from the comfort and safety of your home, however, make sure you are dress for the job. Your choice of clothing tells a lot about your personality.
Therefore, dress professional and don't wear just a shirt over your shorts because only your upper body will be visible in the interview. The interview will know that you are not serious about your job role. And, this will jeopardize your whole interview preparation.
Body Language
When in front of the recruiter, sit up straight, smile and maintain eye contact. You need to act like you are in a face-to-face interview. Plus, with online interviews, you don't need to worry about handshakes. Moreover, a positive outlook will help you face the interviewer with more confidence.
So, these are some of the tips to help you continue your interview preparation as the recruitment process is still going more. Don't let COVID-19 come between you and your dream job.
Best of luck!