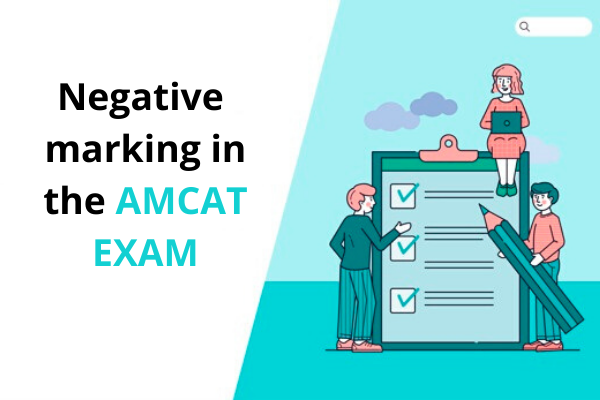 As you might already know that AMCAT is an employability exam which makes your job search easier than ever before. It is specifically designed to show the recruiter that you have both the skills and readiness to face challenges. Moreover, your AMCAT score is a great indicator of how polished your skillsets are and that you are the ideal candidate for the job role. In short, it quantifies your skills which makes it easier for the recruiter to assess your candidature.
When preparing for your exam, one of the biggest questions is whether there is any negative marking in the AMCAT exam. So, here is the answer to all your question.
Does the AMCAT Exam Have Any Negative Marking?
No!
There is no negative marking in the AMCAT exam. That means that no marks will be deducted if you wrongly answered any question. For example, if you have 10 questions in total, each of one mark, then no marks will be deducted if you answer any question incorrectly. So, if you answered 7 questions correctly, then your total score will be 7.
What Is The Exam Pattern Of The AMCAT Exam?
Now, comes the exam pattern of the AMCAT exam. As you might already know that, AMCAT exam is a computer-adaptive exam. It means the difficulty level of the next question depends on your answer to the previous question.
At the beginning of the exam, you will get a medium difficulty level question and depending on your answer, you will get the next question. If you answered it correctly, then you will get a higher difficulty level question but if you answer incorrectly, then the same level or less difficulty level question will be asked.
Next, the AMCAT exam is divided into two sections
Compulsory Modules: Under this module, you will be assessed on skills such as English, logical reasoning, quantitative ability and more. Moreover, these are the skills that you must have irrespective of the job role. And, to prepare for the compulsory modules, you should be thorough with the syllabus.
Optional Module: In this module, you will have to choose two modules from our vast inventory based on your educational qualification and area of interest. Your score in your chosen modules will help you highlight your skills.
How To Prepare For The AMCAT Exam?
After knowing the exam pattern of the AMCAT exam, the next step is to learn how to prepare for the said exam. Here are some things that might take your preparation by a few notches.
Sample Papers: Solving sample papers are a great way to boost your preparation. Moreover, you will be able to assess the pattern of the exam. Now, this will help you time your solving and accuracy.
PrepAMCAT: PrepAMCAT is the simulated version of the actual AMCAT exam. Now, solving these will help you become comfortable with the actual AMCAT exam and will help you polish your preparation. Moreover, it will help you maintain your accuracy in the AMCAT exam.
So, this was everything that you need to know to ace the AMCAT exam. With your AMCAT scorecard, you will get AMCAT Feedback report, make sure to make the most out of that report. It will help you get a better understanding of your strengths and weaknesses.
Moreover, if you are thinking that COVID-19 might be putting your job search on hold, then don't worry. You can give the AMCAT exam from the safety of your home. So, don't let anyone stand between you and your dream job.
All the best!