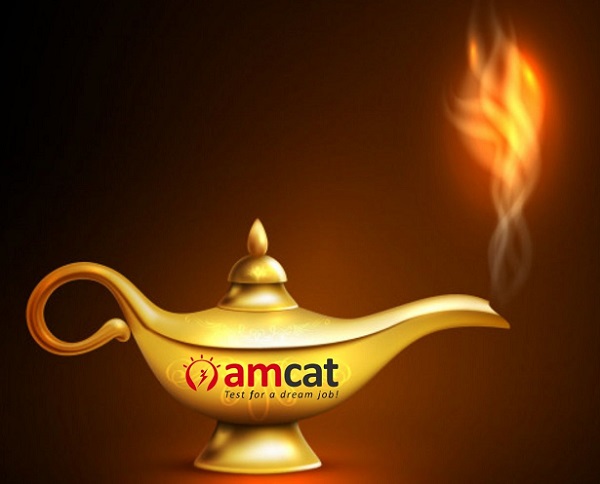 AMCAT (Aspiring Minds Computer Adaptive Test) exam is the world's largest employability test. Every year, more than 2 million students take the test. The reason being, AMCAT exam makes it easy for you to assess your skills and find jobs as per your skill-set. In addition to that, AMCAT also provides detailed feedback on your strengths and weaknesses. Hence, allowing you to improve your chances of bagging your dream job.
But is AMCAT the genie that can fulfil all your job wishes? Let's find out!
Makes You Job Ready
Your academic performance shows your intelligence but it is your skills that get the job done. AMCAT evaluates you based on your skills. There are six compulsory module
Quantitative Ability
Quantitative Ability Tech
English Ability
Logical Reasoning
AMCAT Personality Inventory
Information Gathering & Synthesis
These six modules are compulsory for everyone irrespective of their stream. As these are the basic requirement of every job irrespective of your chosen job profile.
In addition to that, you have domain modules and you have to choose at least one based on your stream of interest or the job profile you are eyeing.
AMCAT exam will assess whether you are job-ready or not. This will validate your skill-set and give it more weight.
Strength and Weaknesses 
The AMCAT feedback report helps you find the areas you lack in and what are your strengths. This can help you in shortlisting the job profiles as per your skill-sets.
In addition to that, you can also use this report as a starting point of your progress and work your way from there.
Room Full of Job Opportunities
AMCAT is your key to opportunities. After giving your AMCAT exam, there are two ways to grab your chances to work in AMCAT exclusive jobs.
Most of the time, recruiters will contact you themselves. They can either mail you or call you.
The second way is for you to go to the AMCAT job portal and apply to AMCAT exclusive jobs and wait for a revert.
In addition to that, you can always post your AMCAT exam score on your LinkedIn profile.
Prepare For the Interview Process
Through AMCAT, you have finally applied to your dream job. Now, the next step is to prepare for the job interview. You must give your 100% when preparing for the eventful day.
In an interview, there are two things to keep in consideration. The first is your resume and the second is the face-to-face interview.
First, start with preparing your resume with care and attention. You should craft it with keeping in mind the job profile and job description. It should have everything that the recruiter looks for and most importantly it should be eye-catching and compelling. If you feel that you might need help when making your resume, then Resume Buddy can be your perfect companion.
After drafting your resume the next step is to prepare for the face-to-face interview. Keep your clothing and resume ready for the eventful day. Keep in mind the dos and don'ts of clothing when selecting your outfit. In addition to that, you should draft an answer to all the standard interview questions.
At last, be confident and prepared. That is the most important things.
We are sure by now you know why AMCAT is a genie that can fulfil your wish of a dream job. All you need to do is schedule your AMCAT right away.