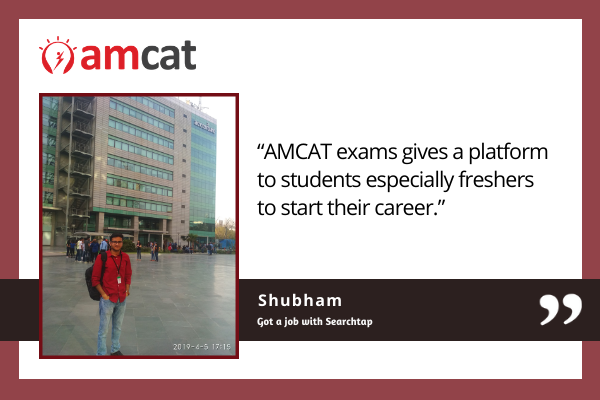 There are many aspects to securing a job offer. It starts with applying for a job, then an interview call and ends with either an offer letter or a rejection mail. However, to end this tiresome journey with an offer letter from your dream company there are a few things to take into consideration. One such thing is taking the AMCAT exam to start this journey and making it a cakewalk.
Shubham chose AMCAT to make his journey as easy as it can be. He took help of AMCAT in every segment especially in crafting his job resume and preparing for the job interview.
Curious about how his experience with AMCAT? Don't wait any longer and dig in.
Why did you opt for AMCAT? And, how was your experience?
"I opted for the AMCAT exam because many of my friends suggested it to me."
We must tell you that you have some really helpful friends.
"My experience was great. There is nothing I can complain about. I got a lot of job opportunities."
He adds, "I even got placed with Accenture."
Through AMCAT you can get job opportunities from multiple companies and for different job profiles just based on your skill-set.
What about the AMCAT feedback report? Was it helpful for you?
"Yes. The AMCAT feedback report helped me in improving my English and my fundamental section."
Both the above-mentioned things are important for all irrespective of your job profile. Therefore, it was great that through the AMCAT feedback report you were able to identify the area where you lagged.
Would you recommend AMCAT exams for others?
"Yes, Yes, Why not?"
"AMCAT exams gives a platform to students especially freshers to start their career."
He further explains, "AMCAT helps you in every aspect of getting a job. It helps you making resumes and also, prepare you for the interview"
According to Shubham, AMCAT exam gives a space for freshers to showcase their skills and hone the areas where they lack. In addition to that, AMCAT also makes resume writing and job interview preparation easy.
So just like Shubham, If you also wanna start your career by working in a renowned company then don't wait and book your AMCAT right away.