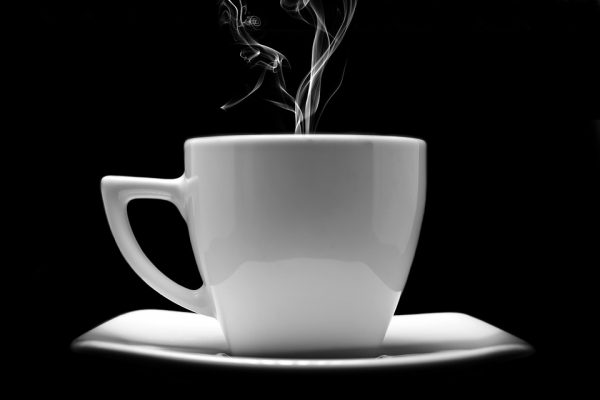 Imagine you had an online business and needed relevant customers for it. To ensure that they could find you, you would need to match your business and its services with what they are looking for, searching for. And you do that by putting in time, effort and money into your business' SEO. With an SEO Specialist in tow.
A Search Engine Optimisation (SEO) Specialist focuses on maximising online traffic to a site by increasing visibility of a website on search engines. SEO Specialist analyses and implements changes to websites so that its page rank improves and the site is optimized for search engines. It is the job of SEO specialist to make a website show up at the top of search engine results.
A modern SEO specialist should be a problem solver and decision maker, with the ability to prioritize and develop relevant and engaging content. They test and implement various search engine marketing techniques, website layouts and advertising for search engine optimization. As the world is becoming more digitized an SEO expert plays a major role in helping companies build their online presence and attract new customers through web traffic.
Here are a few offerings to SEO Specialists:
Job Roles to take up
SEO Executive, Senior SEO Analyst, SEO Project Manager, SEO Expert, Digital Marketing Executive, SEO Team Lead, SEO Specialist, Digital Account Executive
Companies in line
Network18 Media, Dainik Bhaskar Group, Sapient Consulting, Wipro BPS, NJ IndiaInvest, Mphasis, Extramarks.com, Progressive Digital Media, Aon Hewitt, Vatika Group, XL Dynamics, Accenture, ZS Associates and many more
Skills required
An SEO Specialist must be proficient in Search Engine Optimisation, HTML/CSS and Javascript. 
Salary offered
INR 1.8 lakhs is the average salary per annum which ranges from 1-4.2 lakhs per year.
Industries to get into
IT-Software, Software Services, Internet, E-commerce, Banking & Financial Services, Travel, Education, Media, BPO, Telecom, Healthcare, Insurance, Automobile, Recruitment and others.
You can work with top organizations by assuring them that you have the skills & expertise which they are searching for. And do that, you can post the certifications you earn on professional sites or in your resume.
Don't have a professional certification? No worries, for we can help you with that. With AMCAT's "SEO Specialist" certification, you can add weight to your resume and attract the right recruiters. AMCAT's "SEO Specialist" certification is recognised and accepted by 3000 plus organizations to give you a head start over others.
What is special about AMCAT SEO Specialist certification?
Want the "SEO Specialist" certification? You can earn it by simply registering yourself for the test through AMCAT and taking the test at the comfort of your home. This test, which has been designed keeping the hiring pattern and the skills required by the Digital Marketing Industry in mind, is widely acknowledged and readily accepted by businesses and firms.
The certification test is a user-oriented assessment. It allows you to take the exam at home and also provides sample questions for practice. Read on for more features:
Take the test at home
You need not worry about making your way to a test centre in this traffic for you can assess your skills sitting at home.
Duration of Test
The total time allotted to complete the entire test is 45 minutes.
Certificate
You become AMCAT certified SEO Specialist.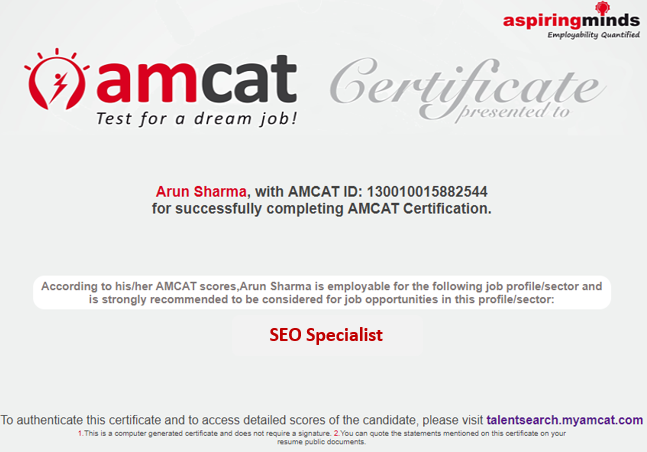 Certification Validity
Get certificate within 24 hours of the test. The Certificate is valid for 1 year from the date of the test.
Sample Questions
Before attempting the certification exam you can exercise your skills by solving the sample questions that come along with the purchase of test. Find sample questions below-
Sample Question 1

Sample Question 2
Sample Question 3
Analysis and Feedback Reports
Detailed analysis of performance and feedback report will be shared along with resources to help and guide you to improve your skills.
Test Environment
Proctoring mechanisms like audio and video monitoring coupled with geographic tagging are enabled to validate the integrity of the test.
Why should you get SEO Specialist AMCAT certification?
In the online era, more businesses are focusing on increasing their visibility on the internet and are hiring search engine experts to attract target visitors and convert them into customers. The quality of pay, as well as career growth, is constantly increasing for this role. Having a certification from a trusted source is an immense advantage and can validate what you write on your resume.
AMCAT Certification – recognized by more than 3000 companies and 2nd most published certification on LinkedIn, not just improve your chances of employability but also helps you attract the top recruiters and massive growth opportunities. You get detailed diagnostic feedback and evaluation report along with resources to improve your skills along with added AMCAT advantage to shine in the industry and get closer to your dream job.
How to get SEO Specialist certification?
Few simple steps to get AMCAT's SEO Specialist certification
Step 1: Buy the product to take the assessment. Attempt the test within 6 months from the date of purchase.
Step 2: Take the test from home. Complete the test in the allotted time.
Step 3: Perform well and earn the certification.
Step 4: Get assessment report and analysis of performance. Get feedback on your strong and weak areas and get resources to improve your skills.
Step 5: Publish your certificate on LinkedIn via MYAMCAT.
Step 6: Apply for jobs and get closer to your dream one.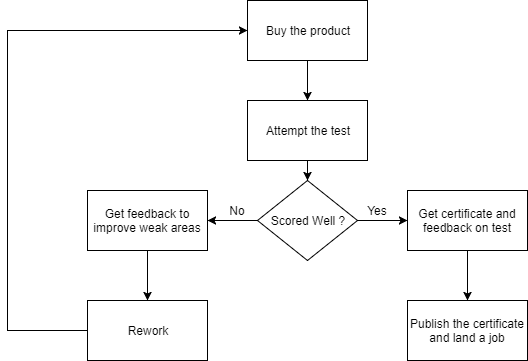 You will be assessed on the following module for the certification-
Search Engine Optimization
This module tests a candidate's knowledge of basics of SEO, SEO strategies and SEO maintenance. The questions in this test are not just based on factual knowledge but sport a good mix of theory and conceptual/practical questions.The Search Engine Optimization test assesses the suitability of the candidate for Digital Marketing and other related profiles in IT-based companies.
Test Duration: 15 minutes
JavaScript
The assessment allows evaluation of your Java programming skills by providing you with the platform to write the program in an editor, compile and run test cases, all in the assessment environment itself.
Test Duration: 15 minutes
HTML/CSS
This test covers all the major areas including Basic & Data Elements, Multimedia & UI Elements, Application APIs, etc. of HTML/CSS.
Test Duration: 15 minutes
How to assess your performance?
Our detailed analysis and feedback report compiles your score and indicates your strengths and areas of improvement in each section. It calculates your percentile to help you assess your skills. The report also features a resource section to help you work on your skills further and come out more rounded after the test.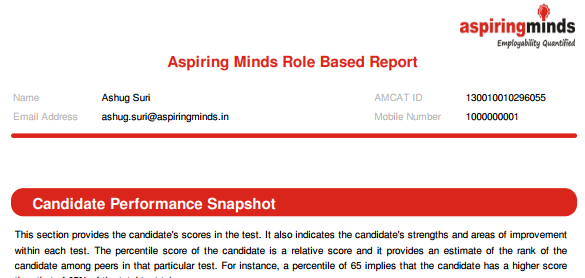 Offers For You!
Buy with AMCAT test and get 40% off on the price of this certification. Click here to buy.