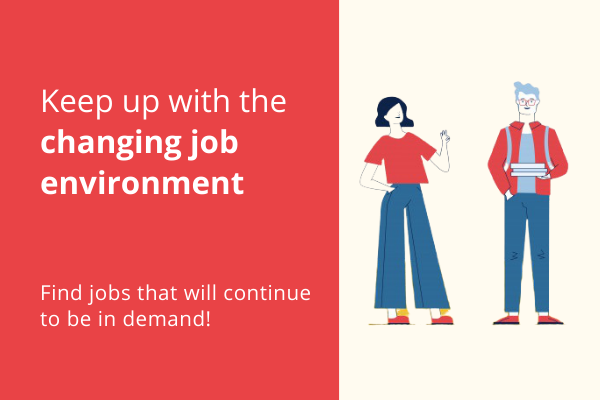 The COVID-19 outbreak has reached a tipping point. And this is not just affecting our health but can also affect your job search. However, there are a lot of companies that have found their way around this lockdown and there are a lot of jobs that are in high demand right now, thanks to the current scenario and industry needs. And, to fulfil this demand, a lot of companies are hiring through virtual platforms.
AMCAT is one of the recruiting platforms that these companies are relying on. In fact, we are connecting with new companies on an almost daily basis and bringing in new opportunities for our AMCATeers. Once these shortlist candidates basis their AMCAT score, they are using online tools like 'Video Interview', Zoom, Skype, etc. to conduct interviews and hire candidates. The onboarding process has moved completely online too.
However, which are the jobs that are in high demand right now and will be so after the lockdown, and are you prepared for them? Let's find out!
Jobs in demand
Tech jobs
Since companies have moved online to virtual platforms, tech companies and tech roles are in demand to make this transition smooth.
As such, Software Developer, Frontend Developer, Backend Developer and App Developers jobs are in demand right now and will be in high demand after the lockdown. Cloud Computing is also becoming an important part of the business and jobs related to it will also increase in demand.
Note: We would suggest you fortify your candidature and hone your skills with these certifications to excel in your job search.
Cybersecurity jobs
With companies moving online, it is only obvious they would need to safeguard themselves against potential cybercrimes. That is where Cyber Security jobs come in.
If you can think one step ahead about the security of the company, find unseen glitches and fix them, then you will excel at this job. Not just that, Cybersecurity jobs also hold a lot of potential for success and growth in the future.
Content Creation jobs
So many people these days are hogging on Amazon Prime, Netflix, Hotstar and other such video streaming platforms. With an increased demand for these applications, there is also an increase in demand for people who can create quality content and artists who can get involved with upcoming projects.
So, if your creative juices run on RedBull and you have a keen interest in storytelling in its various forms, then you should give content creating jobs a shot.
Digital Marketing jobs
Digital Marketing jobs have been in demand for some time now but the lockdown has really put it in the limelight. With companies moving to seemingly unchartered territories for some, the demand for good Digital Marketers who understand the market and the audience is higher than ever.
Digital Marketing jobs are also going to be in demand in the future. So, you should put your marketing chops on and prepare for opportunities in this field.
Getting a job even during and after this pandemic is not going to be as hard as people are making it out to be. You just need to hone your skills and make sure that you are prepared for the jobs that are and will be in demand before you start on your job search.
So, use this period to prepare for your future and make sure you have all the required skills in your arsenal.
All the best!