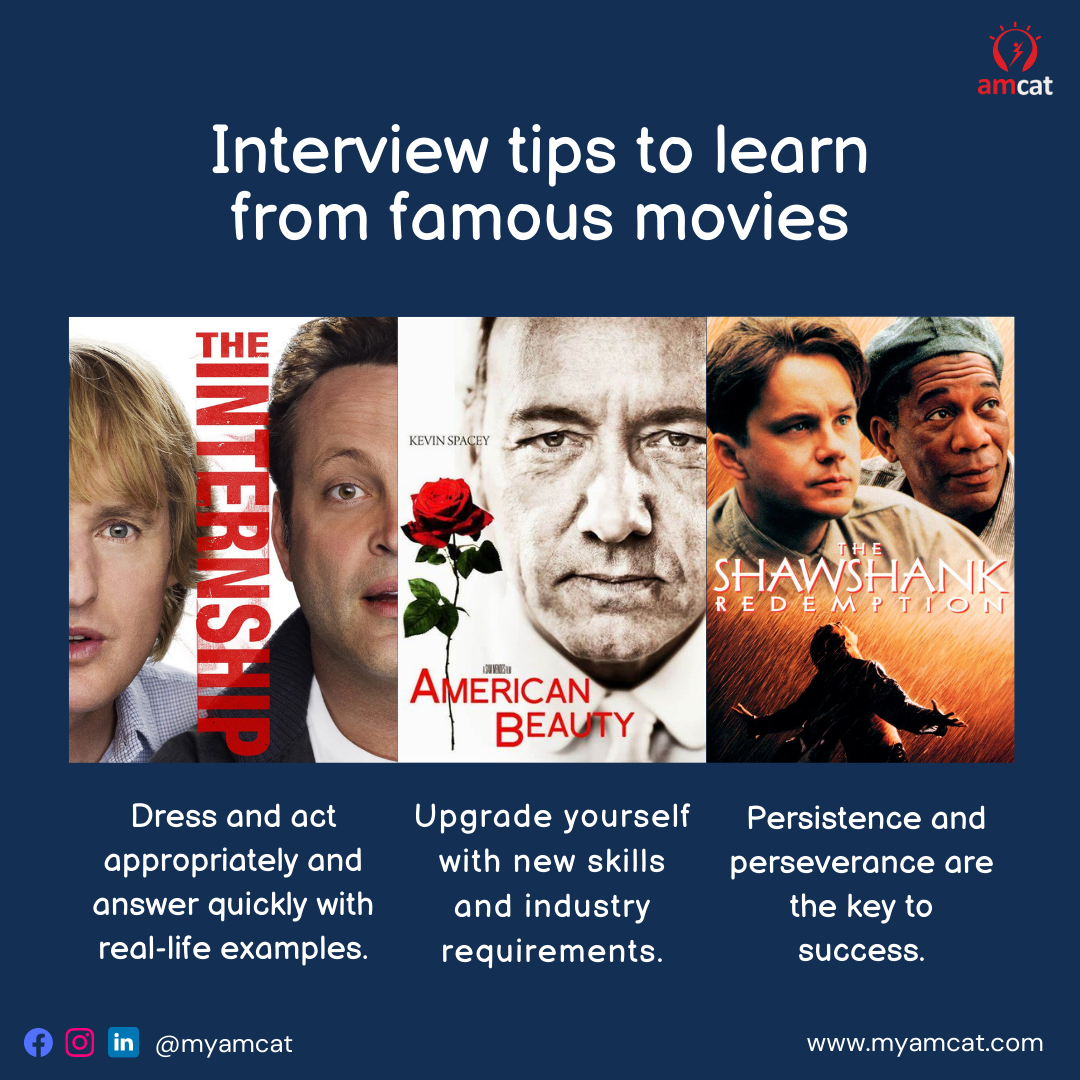 Job interviews are typically nerve-wracking, sometimes even frightening, and rarely amusing. Surprisingly, Hollywood frequently portrays them as a display of bravery, amusement, and even inspiration. We've compiled a list of Hollywood's best job interview moments and have also included some takeaways for your next job interview.
It can be exhausting and stressful to ace a job interview, especially if it is the only thing standing between you and your desired job. A stressed mind can also affect your chances of landing your ideal job. Watching your favorite movies, on the other hand, might help you unwind and rejuvenate.
As a result, here are a few useful tips you can take from these classic movies to help you ace your job interview preparation while resting.
The Internship
While trying to persuade their way into an internship at Google, Vince Vaughn and Owen Wilson break out in cold sweat.
Many interviews are no longer conducted in person due to advances in technology. Companies with a global presence or those with a larger workforce often prefer to conduct interviews online. This type of interview requires the use of a webcam. It's possible you'll be asked to participate in an online interview!
Something to learn from this movie: Dress appropriately for your online interviews (remember, they can see you!), act appropriately, and do the interview in a quiet, private place (not the public library if you can help it). Try to answer interview questions as quickly as possible (this is good advice for any interview), while also providing solid details and real-life examples from your experiences.
American Beauty
Lester Burnham abruptly quits his paid, useless office job after experiencing what can only be described as an existential crisis. On his way home, he stops at a nearby fast food joint's drive-thru and finds that the restaurant is hiring.
Something to learn from this movie: Lester says he's worked in a fast-food restaurant, but his interviewer thinks it's outdated. Lester ends up getting hired, but he could have done a better job connecting the abilities he learned in his most recent work to the skills he'll need on the fast-food job. After all, your interviewer will most likely give your most recent experiences a lot of weight. If those experiences aren't relevant to the post for which you're interviewing – or if you don't explain how they are – you're unlikely to obtain an offer.
The Shawshank Redemption
It's true that this isn't your usual job interview. It's a hearing for parole. But the film is fantastic, and there is a lesson to be learned Red has served 40 years of a life sentence in Shawshank Prison and is due for his normal parole hearing. Red's best friend has escaped from prison, and he badly wants to join him, but there's no reason to believe that this time will be any different than the others, in which he nicely told the authorities precisely what he believed they wanted to hear.
Something to learn from this movie: It's as simple as that. You can try to predict what your interviewer wants to hear, or you can just be yourself and say what's on your mind. It's fine to let your guard down a little, but don't go overboard. Are you looking for a job that allows you to work from home? Do you want to improve a specific skill? Do you enjoy terrible zombie movies? It's fine to discuss it. It gives you a sense of humanity.
These are the top three movies to watch before going for a job interview. We hope you were able to learn something useful from these well-known films. Try to apply what you've learned in your preparation and be ready to answer some frequent interview questions.