AMCAT Ambition for Job Interviews- It is an excellent opportunity to put forth your best version across during your off-campus or on-campus placements.
AMCAT Ambition 2021, is an extraordinary competition. It is a holistically designed platform to provide aspirants showcase their ideas and professional goals. And thereby win recognition and prizes for that.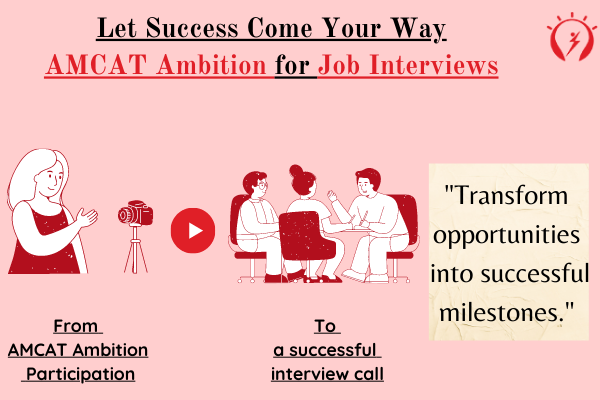 Henceforth, this participation can be used while presenting your resume or during a job interview. Thus, scroll down below to find detail about AMCAT Ambition for Job Interviews.
Do you know that it is "You" who decides the course of an interview and not the recruiter?
It may sound staggering to many freshers. But yes it is "you" onto whom the interview process depends. Yes, HR throws unknowing questions on you. However, you can always steer the course of the conversation through your answers.
Therefore, you can utilize your AMCAT Ambition participation to drive the course of the conversation for the interview.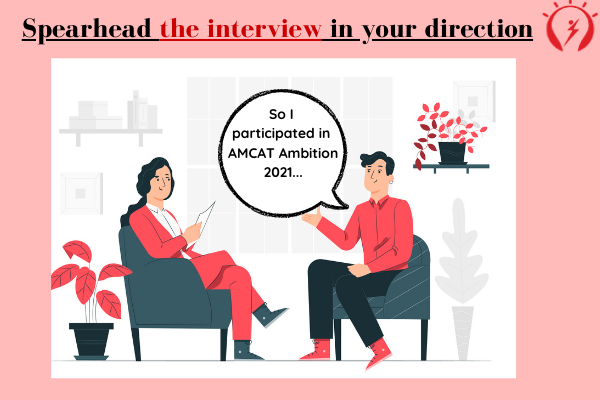 For instance, your interviewer asks you, "tell us about yourself?"
Herein, you can talk about yourself, your personality and more.
Click Here to register for the AMCAT Ambition 2021.
To make it interesting, you can talk about how you participated in the AMCAT Ambition contests and how this opportunity shaped you. There may be two cases:-
Case 1. When you have won any of the prizes in the contest:-

For example, for a software engineer job, you can say," Hi, I am John. Sharing a keen interest in coding and computers, I opted for a software engineering course at "ABC institute". Being a keen learner, I was determined to make the best out of every opportunity I would get. Thus, my participation in the AMCAT Ambition contest gave me a clearer vision for my career goals. Also on winning the first prize, I felt that no matter how different my professional path may seem, but I will surely achieve it as that fulfils me."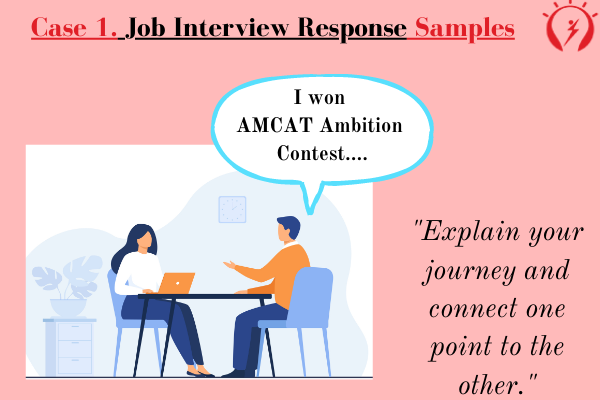 Prize-wise answers can include these important details:-
i. In case you win the 1st prize- You can talk about the Samsung Tablet. You can also quote:
how you made use of that tablet to build a portfolio of your skills,
Or
how you learnt about various resume templates and built a good one for yourself,
Or,
how you upskilled yourself,
Or
how you learnt about new technologies to keep up with the changing trends.
Case 2. When you haven't won any of the prizes in the contest:-
In this case, you can always talk about your learning skills. And how not winning prizes didn't bog you down. In this way, you can showcase your never-give-up spirit. Also, show how you take your chances irrespective of the final result because you know by participating in such contests you always upgrade yourself instead of remaining stuck.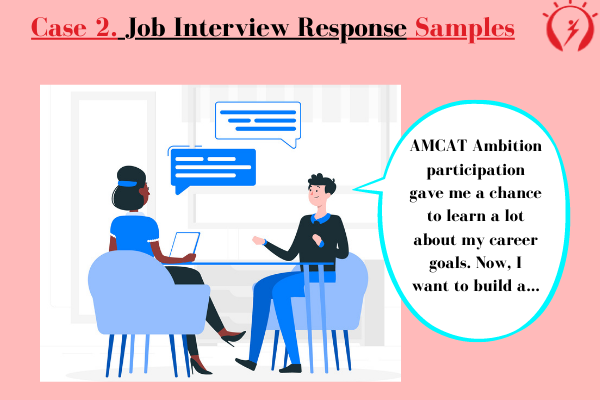 You can quote, "Hi, I am John. Sharing a keen interest in coding and computers, I opted for a software engineering course at "ABC institute". I am a keen learner and love to take my chances. Therefore, I participated in the AMCAT Ambition contest during my final year. This experience helped me gauge my career path. I am now more clear about what will be my professional goals and that is the priceless prize I won through my participation."
About AMCAT Ambition 2021
This competition involves your vision and ability. You are required to present your best foot forward in both these aspects by taking an AMCAT examination and voicing out your professional aspirations.
Winners will receive exciting rewards such as Samsung tablet, and a lot more.
Apart from these prizes, every participant will receive an inexplicable prize for grabbing this chance. You may be wondering what?
These prizes are:-
i. You will learn about yourself,
ii. Your AMCAT Scores will be valid for a whole year. So start your job search right away.
iii. Even if you don't make it to your AMCAT test, you will know your lacking points that you can avoid while appearing for the second attempt.
iv. Flaunt your participation on job portals. Talk about your ambition out loud wherever required.
v. If you win the contest, then nothing like that.
No matter whatever the situation may be, you will level up from wherever you are in the process.
Participate in AMCAT Ambition for job interviews 2021
Talking about your participation can add 100 times value to your interview session. How? Let's find out with these three critical points:-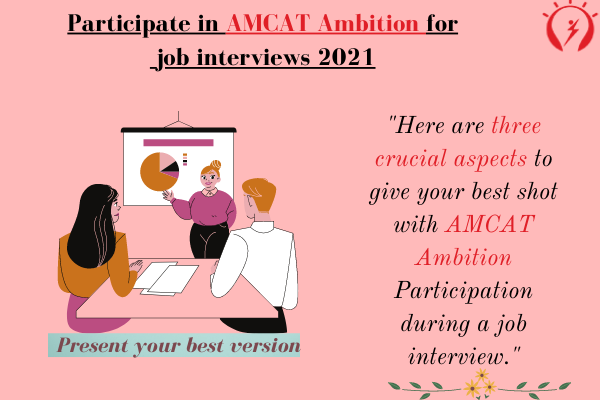 1. Interest recruiters with your participation in AMCAT Ambition 2021
While it may or may on be mentioned on your resume but you can always talk about it during an interview round. How? When the interviewer asks you about your interests or shoots this question, "Tell me about yourself?" Then you can describe your self by mentioning participation in the contest.
Thus, AMCAT Ambition for jobs is a "one of a kind" opportunity for you to stand out in your interview.
2. Walk them through your career goals with AMCAT Ambition Contest 2021
Now that you have introduced your participation in the AMCAT Ambition contest. Now take this to the next step. Explain to them about your career goals as you did while recording your ambition video.
Interviewers love this question, "where do you see yourself in 5 years?" Thus, you can always incorporate AMCAT Ambition experiences and learnings.
3. Clarity of Thoughts lead to Excellence of Performance
AMCAT Ambition is in itself a journey of your career goals. While the more you talk about it, you will realize that you gain better clarity on the same. Therefore, you will realize how confidently you respond when you face the actual interview. Thus, utilize this opportunity as your stepping stone during an interview.
AMCAT Ambition for Job Interviews- Important Update About the Contest
The date of the competition has been extended to March 31, 2021. So you have 13 more days remaining.
Conclusion
Thus can you see a wider picture of AMCAT Ambition for interviews? No matter whatever the result may be, you will be levelling up with this participation for sure. So take your chances. Shoot that dream video. Do not think much about how it will turn out. You will either win exciting prizes or you will win life lessons about your career path.
You may end up finding your additional interests or you may even find new interests altogether.
All the best.
Stay tuned with www.myamcat.com for the latest updates on AMCAT Ambition.