Are you applying for your dreams job? Are you writing a cover letter for that crucial job application? However, are you ending up getting zero calls despite tremendous efforts?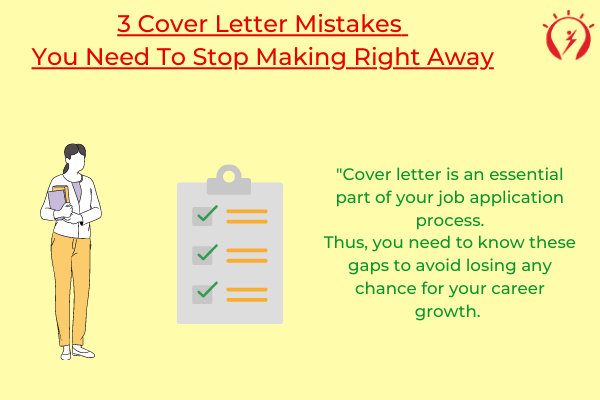 Then probably, you are making three cover letter mistakes which you must stop right away. Freshers commonly make such mistakes unknowingly while sending their cover letters. In the process, they lose their chance to land the desired job. Thus, it becomes imperative to take care of these minor faults that can result in considerable repercussions.
Therefore here are 3 cover letter mistakes that you can work upon to turn your application into an interview call. Wasting no time, scroll down below.
You can register for AMCAT Mock AI for interview assistance. It prepares you for all kinds of interview situations. 
Why is a cover letter needed at all?
A cover letter is brief descriptions of your profile and intentions towards a job. Now, many companies behold cover letters as a mandatory prerequisite during the application. Many may wonder as to why is a cover letter important at all when you are sending your resume to the recruiter.
You can register for AMCAT Resume Buddy for professional guidance. Click Here 
See your resume is a brief elucidation of your achievements and background. However, a cover letter acts as a conversation with the employer before you converse with them. It helps them filter out the potential candidates, thereby fastening the selection process.
Also, in the job roles like that of a content writer, a cover letter becomes a medium to understand one's writing skills too. However, keeping that aside, a recruiter learns a lot about your communication skills through a cover letter. However many students end up making various cover letter mistakes which hinders them from making it to the company interview round.
So here are 3 common mistakes which you need to stop making right away. Kindly check below:-
Cover Letter Mistake 1. One Coverletter for Multiple Applications:
One of the most common and the most critical mistake you cannot afford to commit while sending your cover letter to the desired prospects. Many freshers end up sending the same cover letter to different companies.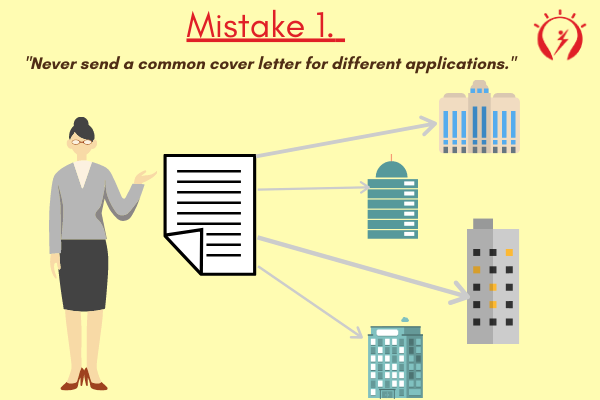 Yes, it becomes a tedious task. However, you can draw it down to two simple steps for clarity. Kindly check below:-
Research the background of the company,

Write multiple cover letters if you are applying for different companies.
It is observed that many job-seekers, especially, freshers send one cover letter for multiple jobs. While it is so important to send a cover letter to the potential prospects. However, it is equally important.
Protip. Maintain multiple templates for different cover letters. It will enhance the presentation of your application. Kindly, go through the job description thoroughly because losing out on even a minor detail may pay you heavily in the later stages. You may even have to start it from the scratch again. Thus, stay attentive to the process. 
Cover Letter Mistake 2. Watch out for the length of the cover letter
See, cover letters are like a description of your intentions to get a job. Therefore you need to make the cover letter brief and crisp for the better understandability of the recruiter.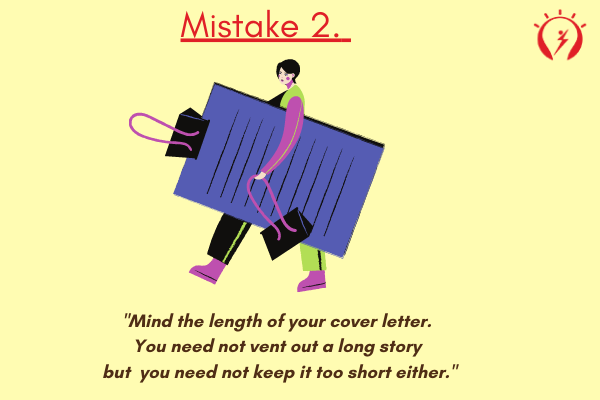 You might think, that you should keep the length short. However, that is not the case. You want to keep your intentions and reasoning quite straight right. Therefore always avoid long cover letters but ensure that the length is moderately maintained. It is because this practice helps you describe yourself briefly yet avoiding misconstruction. 
Protip- Thus, on average, the cover letter must not exceed a page length. But try maintaining a full-page length so that your intentions are set right. See there are no rigid rules to it. However, you must ensure the word limit from 200 to a maximum of 350 words. 
Cover Letter Mistake 3. Maintain a well-connected structure of the cover letter.
Here are three important steps to structure your cover letter well:
1st Step. Opening of the Cover Letter- Address the respective recruiter or HR manager by their name. In this way, it shows your awareness about the recruiter. The person's name might be not mentioned on the job application. Therefore, in such cases, visit the company's website or Linked profile and other professional sources.
For instance, you can open the cover letter introduction as follows:-
Hi Mr John,

 I was thrilled to find the "software engineer" opening at your firm through the "Source" portal.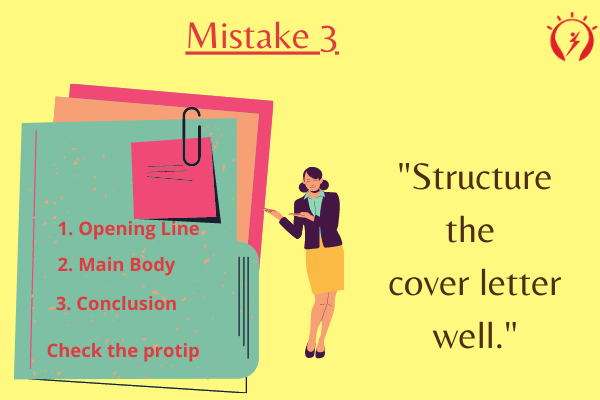 2nd Step. The second step is the introduction part. Herein you must mandatorily mention the source name. This means you need to write about the job portal or campus placement guideline which you came across during your job search.
3rd Step. Then comes the "main body" part. Now, in this section, you state your intentions with utmost clarity. Don't let it stall for time as the recruiter receives numerous applications. Therefore, it is not enough for them to stick for long on one application.

Others. Mention the communication details too. For instance, add your email ID. Though an Email address is not mandatory because you are sending your resume that already contains communication details.
Protip- Organize a well-structured cover letter that makes everything evident at very first sight. Do not forget to add your email ID. It may not be mandatory but leaves an impressionable imprint on the recruiter as they can straightaway take the action if they like your profile.  
Conclusion.
No matter if you are a fresher or a working professional, you must write a cover letter before sending your job application. Many companies require a cover letter on a mandatory basis as a part of their recruitment cycle. Though, many seekers send their cover letters. Yet, they end up making these mistakes while writing one. Now, that you know it, ensure that you don't miss these critical points: cover letters according to the company, length of the cover letter and the structure of the cover letter. 
All the best!

Stay tuned with www.myamcat.com for the latest updates on jobs, work-related topics and more