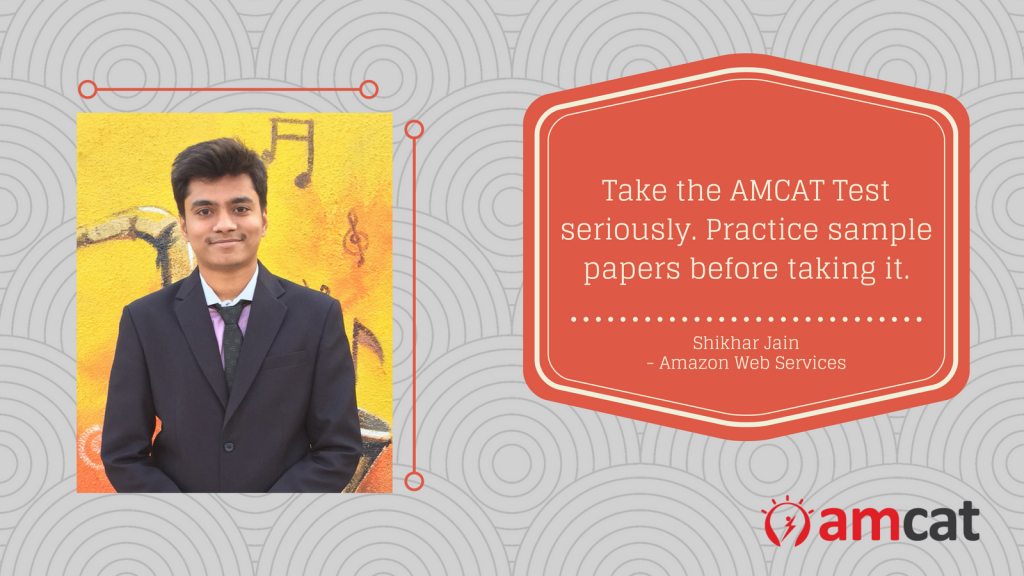 We have had opportunities with Amazon Web Services on our portal for days, with countless aspirants trying to nab them. The stipulations have been stringent, owing to which even shortlisted candidates have often not been finalised. We bring here the story of Shikhar Jain, a B.E. in Computer Engineering, who was able to crack the opportunity, with his scores on the AMCAT Test.
The AMCAT Success  Story:
Shikhar Anil Jain, from Pune, Maharashtra has been looking for jobs ahead of his own graduation in 2017. The B.E. in Computer Engineering is currently completing his course from Sinhgad Institute of Technology and Science. And now, he has one with Amazon Web Services.
How was he faring in his attempts to land a fresher job before his experience with the AMCAT test? "One of the difficulties which I faced, was to find a good job profile with a decent salary." Especially when his main career goal was to find ample learning opportunities with his job.
And what happened after the test?
"Aspiring Minds helped me with a good number of options to solve my problem. In fact, I received 13-15 calls. The first call, however, came less than a month (after giving the AMCAT test)."
The overall AMCAT Advantage
As we keep saying, again and again, the AMCAT advantage is not just about leveraging your scores to apply to exclusive fresher jobs. It's about knowing more about yourself, your strengths, your weaknesses and acting on them accordingly. And that's the best thing that Jain did, possibly even boosting his chances of landing the fresher job.
"AMCAT tests help in improving aptitude and reasoning skills. The detailed test report helps you realise your weak areas and helps to improve your profile."
Would he recommend it?
"Yes, one must take AMCAT as it is one of the top hiring partners and it will provide you with multiple job opportunities if you score well."
However, he cautions future test-takers as well.
"Take AMCAT seriously. Practice sample papers before taking the test. Find out your weak points and work on them. Make short notes while practising so that they can help you to revise topics."
Keen on reading up on more AMCAT success stories? We encourage you to go through the entire list, even as you continue to think about whether the test is for you. And if we're able to convince you, consider scheduling one for yourself today.