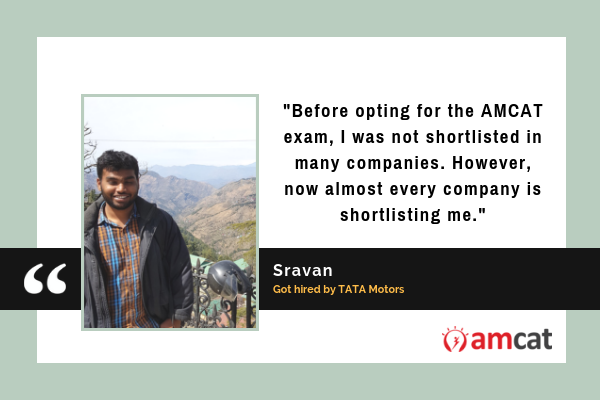 The AMCAT exam has proven itself over and over again. By letting the skills of the job seekers come to the fore, AMCAT has ensured a successful environment for those looking to make it big in their career. However, how much of an impact does the AMCAT exam make in the life of its consumers? Or is it even helpful?
We are going to answer all these questions, through the success story of Sravan. Sravan got a job in Tata Motors through the AMCAT exam and decided to take his career upward from thereon.
Let's see what all he has to say about AMCAT –
What made you opt for the AMCAT exam?
"I opted for AMCAT because it is a gateway to joining any company."
AMCAT hosts a good number of jobs on its jobs portal. In fact, it created over 5 lac opportunities last year. And, if that is not enough, it also conducted over 1650 on-campus and off-campus drives for the student.
Sravan recalls how "before opting for the AMCAT exam, I was not shortlisted in many companies. However, now almost every company is shortlisting me."
If that isn't the AMCAT magic, then we don't know what is!
Tell us about the job you got through AMCAT
"I got a job with TATA Motors through the AMCAT exam", says Sravan.
He also adds that, "I was average in aptitude but after getting the AMCAT feedback report, I am able to clear every test."
The AMCAT feedback report can be a real boon for those eager to improve and do better. It tells you about your strengths and weaknesses, guiding you on how to do better. If you are looking to understand how the AMCAT feedback report can exactly prove to be a boon for your career, read this blog on the topic. 
Appreciating AMCAT as the gateway to a lot of good job opportunities, Sravan is just glad that AMCAT happened in his life. And, we couldn't be happier for it.
Much like how Sravan proved his mettle, turned all odds in his favour and established his superiority; you too can do the same. Just schedule your AMCAT, pay attention to the feedback report and start working on your skills set to get improving and succeeding.